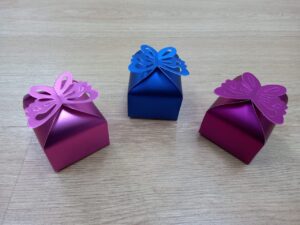 Looking for something that look cute for your event door gift? Finding its hard to have so many selection in the market?
If you're looking for a simple yet bold for your guests at your Wedding Day or Birthday party, Company dinner or any other events that suits, we can suggest you to pick our "Butterfly Paperbox (DIY)". Looking cute for sure, it will make your wedding or event full of joyous, blithe and light-hearted.
You can fill this cute paperbox with many things such as  sweets, nuts, small chocolates, Dodol (Traditional Malaysian Dainty) or any small tidbits.
This is Do-It-Yourself product. It mean you need to fold it by yourself. No worry, it only takes less than a minute per box.

Get yours now for your memorable events.
Kindly call or whatsapp us to purchase or to know more details on the product.
03-41319731 / 011-62289727 (Nina)