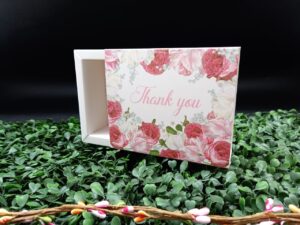 You can fill this cute paperbox with many things such as sweets, nuts, small chocolates, Dodol (Traditional Malaysian Dainty) or any small tidbits.
Box size : 13cm (Length) x 11cm (Width) x 4.5cm (Height)
This is Do-It-Yourself product. It mean you need to fold it by yourself. No worry, it only takes less than a minute per box.
Get yours now for your memorable events.
Kindly call or whatsapp us to purchase or to know more details on the product.
03-4131 9731 / 011-6228 9727 (Nina)