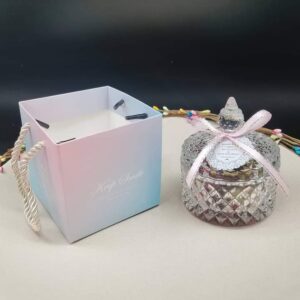 Haven't found any suitable doorgift for your VIP guests on your wedding day or any Corporate events? Finding its hard to make decision on many choices in the market that worth value for money? "Small Dome Glass Berdeco With Paperbag" might solve your problem.
This package consist of Small Dome Glass which is decorated by a ribbon at the cover of the glassware  as per seen in picture and comes together with paperbag.
The glass bowl however has been filled with nothing. But you can fill it with many things such as sweets, nuts, small chocolates, Dodol (Traditional Malaysian Dainty) or any small tidbits by your own. This glass bowl can be kept by your guests for treasure where it can be use to fill up something treasureable or for display.
Get yours now for your memorable events.
Kindly call or whatsapp us to purchase or to know more details on the product.
03-41319731 / 011-62289727 (Nina)