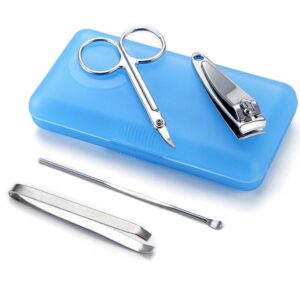 Suitable for Travel. Small n compact Size. Easy to Store.
Increased cutting force and polishing technology to assure clean and easy nail trimming.
Sharp edges to trim the deeper and harder parts of toenails.
Hard PP case to protect all your tools well reserved and protected.
Package comes with 4 stainless instruments to meet all your grooming purpose.
The set contains:
1x nail clipper,
1x scissor,
1x ear pick,
1x eyebrow tweezers,