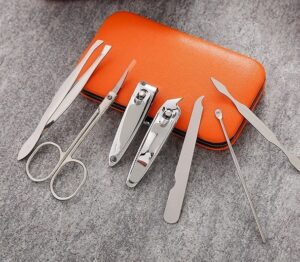 Multi-functional manicure set is easy to use and carry.
A box with 7 sets, but everything for you to build elaborates.
Clever design, the box can be opened when you press a button. Perfect for using at home or travel.
 Material: Carbon steel.
Color: Purple, Pink, Blue, Green, Red, Black, Fuchsia Pink, Yellow, Orange
 Size: Length: 5.20cm  X  Height: 10.60cm  X Width : 2cm
The set contains:
1) Flat Nail Clippers,
2) Oblique Nail Nipper,
3) Double Pick,
4) Eyebrow Scissor,
5) Eyebrow Tweezers,
6) Ear Pick,
7) Double Side Nail File.