Ready Made Box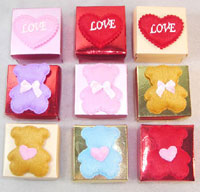 DIY Yourself (unfold Box + Accessories)
Choose the box and accessories you like, and DIY yourself 🙂
Box Colour: Red, Gold, Purple
Bear Colour: Pink, Red, Blue, Purple, Brown
Bear's Acceccories: Pink Love Shape or Pink Ribbon
Love Shape Colour: Pink, Red
Box Size:4.7cm x 4.7cm x 3.5cm
Box Capability: 1-4 candy
At present that you're about to tie a knot, your world abruptly changed from being pleased go lucky to the super busy individual. Apart from the fact which you want your individual desires to be comprised in your own celebrations, the do-it-yourself marriage planning is as well a way for cutting down expenses. It could be a bit demanding to plan your individual wedding that needs being kept in a fairly limited budget. Luckily, there is abundance of ways in how to perform it, and one among which is buy choosing for cheaper wholesale wedding favors.
DIY Your Door Gift
In case you'd like to think of DIY wedding door gift, you've to create them by making use of equipment and materials of these small candy boxes. It is where the wholesale wedding favors would play an imperative role. The majority inexpensive way for managing the task of doing a huge wedding door gifts is by ordering them wholesale. There's wide variety of simple wholesale door gifts, often cheap, that could be assembled as well as embellished by one.
Along With the DIY favors, you would create your individual party souvenir with the own touches. It's easier to create them suitable if you're planning a themed marriage as well. For instance, if you would like a teddy bear themed marriage, all you require to do is purchasing wholesale teddy bear boxes as well as embellish them with the own touches. You could coordinate wedding colors as well as other tropical ideas in the gifts. However, if you want the love themed wedding, the wholesale small boxes with love-shaped felt clothes could be a perfect choice. These cute boxes could hold trinkets and could be enhanced by means of painting them or to include other fancy accents.
The main goal on providing inexpensive wedding favor is to be capable to provide little gift for guests, although cheap & bought wholesale, but they're not merely the ones which have been bought at low quality because you've customized them. You do not want to comprise that quality, certainly. You must research beforehand about that ways on how you will modify wholesale wedding favors.
Buying Bulk With Wholesale Prices
The Wholesale wedding favors were widely available online. You'd easily find the online vendors of the wholesale wedding supplies, starting from party door gifts, invitation, decorations, reception accessory, bridal shower supply, place card holders for wedding gifts. Those online wholesalers usually give their products at lower prices. Be wise while shopping online. Although you'd find discounts on those online wholesaler, it's always good to make sure yourself that you're ordering on the trusted site. Consider to read feedbacks and consider suggestions from loved ones as well as friends. You can as well join forums online, that you would be exchanging tips, opinions, suggestions and ideas together with other couples and brides. The Internet will be a vast source of data of everything. So, in case you are on the budget, but want to make a dream wedding come true, apart from cheaper wedding favors, the remaining of the wedding supplies could be ordered online devoid of spending a fortune.