What Can Grosgrain Ribbons Used For?
Grosgrain ribbon has existed in the world for years and they are widely used from hair bows, gift wrapping to clothing embellishment. This type of ribbon is become more and more popular as an attractive embellishment that being used widely. Sewing, crafting, and embellishing are typical areas for people to make use of such ribbon for different projects.
One of the common purposes for using grosgrain ribbon is during the wedding event. This stuff is important when come to decoration and designing gift items in the wedding ceremonies. The uses of grosgrain ribbons also are very crucial during the time of decorating the hall and ballrooms.
Another usage of the ribbons is to use it as gift wrapping ribbons that would make the gift to become even more attractive and eye-catching. Grosgrain ribbons are also widely used on wedding dresses and groom evening tuxedos. Some hair accessories such as hair bows are usually comprised of this kind of fiber as well.
Printed Grosgrain Ribbon
Many people like to use the printed grosgrain ribbons that feature with about 30cm long to wrap their gifts. By applying some creativity, you may use grosgrain ribbon bows to add extra effect on the gift.
For gift supplier, it can be a more convincing purchase if they are offering the items by having a printed ribbon wrapping around. With the printed of seasonal message, it could create a sentimental senses for your love one.
What Are The Usage of Stitched Grosgrain Ribbon?
Stitched grosgrain ribbon can be use for clothing, packaging, arts, crafts, scrapbooking as well as bridal and wedding use.
The stitched grosgrain ribbons that you can get from the market tend to be classic for all occasions. There are various colors that you can choose from when you are looking for this type of ribbon. Most of them are available with a width of 15mm and 3 metre long. It is ideal for gift wrapping and can appear to be fabulous with brown paper, foliage and vibrant wrap.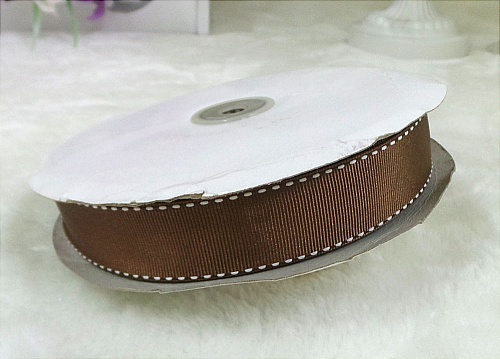 The Use of Polka Dot Grosgrain Ribbon in Wedding
Polka dot ribbons are a fantastic way to decorate a bridal bouquet. For the best luxurious look, choose the polka dot grosgrain ribbon for your wedding bouquet decoration. Among the colors that are suitable for the bouquet are pink and white or brown and aqua to create an exquisite affair. These ribbons also can be use to make bows to tie onto the chairs of wedding receptions or to embellish the church pews.
The wedding party can include things like the polka dot ribbons for their dresses. As a bride, if you want to wear an attire decorated with polka dots, you can wear a wedding dress which is stitched or printed with polka dots white-on-white design.
For the men, they are having many polka dots options as well as they can wear them on their bowties or neckties. While for the bridesmaids, the choice is not limit there. They can wear dresses that decorated with polka dot or if they wish to look more gorgeous, they can match them with a nautical color such as navy or white dots.
Buy Grosgrain Ribbon from Wholesale Supplier
If you want to buy grosgrain ribbon, you should go to find those suppliers that can offer you with wholesale price. There are many ribbon shops that selling grosgrain ribbons but generally most of them are having limited choices and the prices also expensive. If you can't find what you want, you can always searching for online store that are selling ribbons.
You should make sure the online store can provide you with abundant variety, products with quality, appealing service, reasonable pricing, and fast shipping. It is good for you to build a long-term relationship with your supplier if you are going to get the ribbon supplies from them on regular basis. Therefore, you can simply do a search on the internet for grosgrain ribbon supplier and you will immediate get many different ribbon companies showing on your screen.