Flowers make for lovely gifts on lots of special occasions, and sometimes, just because. The natural world is full of many brightly colored and gloriously shaped flowers, which you can pick and choose to make the perfect arrangement. Of course, deciding which flowers to include and how to put them all together is a job often left best to a professional floral designer. But that does not mean that you cannot use your own eye and preferences to decide which arrangement you will send as a gift.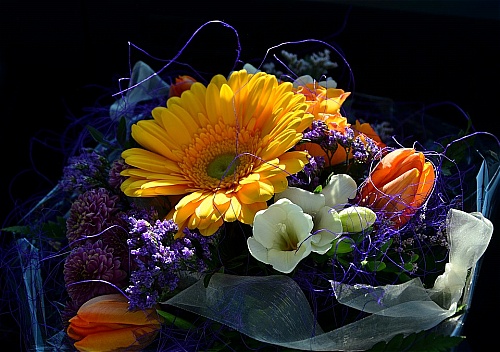 Even though every bloom is beautiful in its own way, not all flowers are considered appropriate for every occasion. For example, a flowershop is not likely to advertise the same arrangements for funerals as they do for Valentine's Day. The following advice can help you choose a premade arrangement – or put together your own creation – for a special someone who will be receiving your floral gift:
Romantic Flowers
Flowers have long been a beautiful symbol of romance and love. The quintessential romantic flower – the red rose – is a staple on Valentine's Day. But there are many more options at the flowershop for you to choose from if you want to make a romantic floral gift.
Roses have been connected with romance, commitment, and love by Western culture for hundreds of years. Red roses are considered especially romantic, but that does not mean that red is your only choice. Yellow, white, and pink roses all have love romantic notions as well. And even though some folks attribute specific meanings to each of these colors, do not be afraid to break from the mold and send whichever color you feels right for your special someone.
Apart from roses, tulips are also recognized as symbolizing passion and love. If those are the romantic feelings that you want to communicate with your gift of fresh flowers, then by all means, send tulips! Other romantic flowers that you will often see at weddings and anniversary events are lilies, stephanotis, and hydrangeas.
Sympathy Flowers
Floral gifts can run the entire gambit of human emotions, from the most romantic to the saddest. Sympathy arrangements sold by a flowershopcan help you express your deepest condolences for the loss of a loved one or a similar occurrence. These can be sent directly to the homes of the family members of the deceased or delivered to the funeral homes where the services will be held.
When choosing a sympathy arrangement, be sure to choose respectful colors and flowers that offer your support while still showing respect for the deep sadness of the occasion. Some of the flowers that flowershops most commonly include in funeral sprays and decorations are daisies and carnations.
Of course, other blooms may also be appropriate. For example, if a friend or family member has died and you want to honor them with a display of their favorite flower, this will almost always be received well by the family. You may also want to contact the religious leader or funeral director attending to the service to inquire about which flowers would be best to send.
Just Because
Surprising a special someone with a floral gift without any specific reason – "just because" – can be a great way to let them know that you care. Orchids, flowering plants, and flora gift boxes all make great gifts that tell the recipient, "I was thinking of you."
When you place an order for an arrangement to be delivered, the flowershop will likely offer to include a note or card with the flowers. Take this opportunity to share a brief message with the recipient expressing your sentiments. A short but meaningful message can make the emotional effect of the flowers even more powerful.
A Personal Choice
There are nearly infinite possibilities when it comes to creating floral arrangements. Blooms can be found in all different sizes, shapes, and colors. The suggestions mentioned above can generally help you when picking flowers from a flowershop, but do not let them hold you back. Think of your recipient and let your own feelings guide your choices.
How about you? How do you decide which flowers to send for special occasions? Are there certain blooms or colors that you prefer? Do you avoid any flowers on specific occasions? Please let us know in the comments section.
Thanks to Joan T. Timermans and danisaflowers.com as this greats advice about flowers belongs to them.