While some people would prefer to have a quiet wedding, with just a few friends and in an inconspicuous location, others prefer to have a huge flamboyant and utterly lavish wedding, whereby no expenses are spared.
If you are of the latter persuasion and have aspirations for your wedding to be fit for royalty, then you may be interested in taking a look at the following glamorous wedding ideas.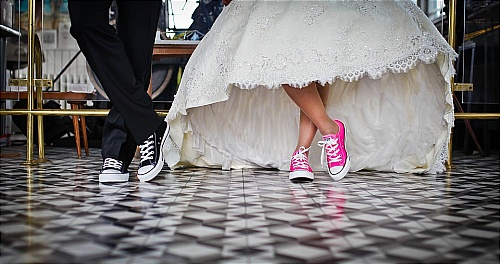 Ensure to have grand piano
There is nothing quite as glamorous and splendid as having a grand piano present at wedding. Of course you'll need to make sure that you have a decent pianist playing some delectably exquisite tunes for your guests to enjoy at the reception.
Spread some glitter
There is nothing quite like the sight of glitter to create an air of glamour and excitement. Don't hold back when it comes to sprinkling sequins and other glittery delights on guests' tables and chairs, on the dance floor and anywhere that you think could do with glamming up.
Have a champagne tower
Champagne, alongside caviar and Rolls Royce's, is the ultimate symbol of flamboyance and affluence. A wedding is a time to splash out on such flamboyant items and there is nothing quite as proficient in causing a stir and generating the wow factor when guests arrive at the reception, than having a champagne tower soaring high in the air.
Hire a luxury wedding car
There is nothing quite as glamorous as rolling up outside a church or registry office in a height of luxury wedding car. Whether it is a Bentley, Jaguar, Ferrari or even a horse and carriage, just as long as it radiates wealth and ostentatiousness, a luxury wedding car will rocket your wedding in the glamour stakes!
Go live
A glamorous wedding simply must have some kind of live music and why not go for the best? Splash out on having a fantastic band blast out classics into the early hours, will help ensure that your wedding is not just glamorous but memorable as well.
The cake
A cake, similar to the bride's dress, is a feature of a wedding that can cause tongues wagging and eyes sparkling. For an ultra-glamorous cake have it adorned with sparklers, dim the lights and have a handful of tastefully dressed and not to mention gorgeous waiters bring it out!
Candle-lit paths
Forget red carpets as they are way too tacky, and instead opt for lined paths and walkways into the reception with candles, creating a wholly romantic and dazzling end to a highly glamorous wedding.
Claire Small is a wedding planner and uses the extremely professional services of premiercarriage.co.uk to provide her clients with the wedding day transport they've always dreamed of.