Next to the Bride and her dress, the cake is one of the centerpieces of a wedding. People love to stand around and admire the cake and notice how it reflects the Bride's tastes or personality. The problem is the cake is usually dried out, the frosting is frequently flavorless and it costs a lot of money.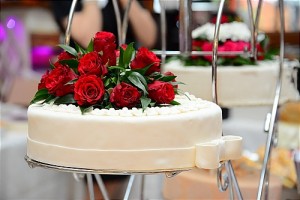 There are several options for getting a quick, cheap and yummy cake for your wedding.
1) Go with the plain cake. If you must go with a bakery, ask for a sparsely decorated cake. I know this sounds ugly, but wait. Bakers spend a lot of time working on all those frosting decorations. Avoid this cost by asking your florist to use a few extra flowers to decorate the base and the layers of the cake. This they will probably do for free or for very little. Purchase your own topper, one that reflects you, and ask the florist, caterer, wedding planner or even your mom to put it on top.
If you want more flavor, avoid fondant. Fondant looks beautiful, but if you want taste, you want buttercream or some other flavored frosting.
2) Several small cakes. Another way to decrease that wedding cake cost is to purchase 4 or 5 undecorated 8″/9″ layer cakes. Purchased from a grocery store or Costco/Sam's, this should be less than $100. These cakes are often quite tasty and you can use different fillings in each one. They can be all white, all chocolate or mixed; it's your wedding.
Place these on different sized cake stands. Stands can be purchased anywhere or borrowed from friends. They do not need to match or to be expensive. Just be sure they are of differing heights. Wrap a 3″ ribbon matching your colors around the base of each cake. You can add flowers or fresh fruit in front of the ribbon or place bows on the table. This is a beautiful arrangement of pastries.
If this amount of cake does not meet your needs, purchase a sheet cake to make up the difference. Keep this cake in the kitchen with the caterers.
3) Ask a friend to bake you one as a wedding present. This can a great option or a risky one. You're never sure exactly what you'll get in the end, but it will be free and, if you ask the right friend, it'll taste great.
4) Finger Pastries. If you have a smaller wedding, you can actually simply serve assorted pastries for your cake. Have a small white cake with a topper for your wedding cake and place it in the center of the pastry table. That way, you'll have a cake to cut for the ceremony, but won't have the cost of a large cake for only a modest number of guests.