Wedding blogs and blogs in general are so popular today. Many of the well known wedding designers, wedding planners, brides to be, past brides, and wedding gurus all have their own blogs or employee professional to blog for them. Wedding blogs are a quick way to catch up n the latest wedding trends, asks important wedding questions, or simply follow someone else through their wedding.
There are so many wedding blogs out there that every bride should take the time to check out.
Martha Stewart Wedding Blog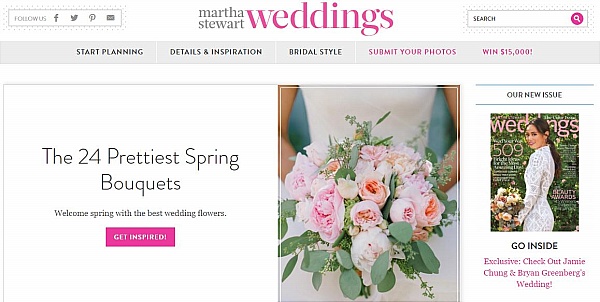 Martha Stewart even has a wedding blog on her website. We all know Martha Stewart and the quality wedding magazine she produces. Maybe I should refer to her magazine ad the modern girl's wedding bible.
Either way, Martha Stewart's wedding blog is definitely one of the wedging blogs every bride should check out. Hey, even if you are not a bride, this is an awesome wedding blog!
Martha Stewart's blog is written by an employee she hired, but you can rest assured Martha has her finger in every letter typed on the wedding blog. Some of the best features about the wedding blog from Martha Stewart is that there are so many elegant and professional looking crafts.
If you are a hands on bride who loves to make things, then this is the blog to read.
Style Me Pretty
The Style Me Pretty website has been a popular wedding site for all brides for at least a decade. Thank goodness for the website and blog. The wedding blog is one of my favorites for so many reason.
Aimed at "style obsessed brides," this wedding planning blog is full of tons of visual inspiration. For a quick does of inspiration check out the Inspiration Boards that feature photo mosaics of wedding elements styled around a theme, e.g. Vintage Chic, with detailed descriptions of how all the pieces fit together and then some. Includes lots of links to vendors.
This wedding blog is the best source for finding new ways to register for bridal gifts, honey moon ideas, wedding etiquette, and even how to entertain your wedding guest.
If you only have time to hit one wedding blog, the Style Me Pretty blog is the best overall and well rounded wedding blog that hits a little bit of every subject.
Weddingbee
(www.weddingbee.com)
Featuring a blog role from the Miss, Mrs. and Mr.'s perspective (ok there are only 2 Misters but they have great insight!), the posts on this wedding blog offer the experience of women around the U.S. and Canada who are getting married in the next year or so or those women who were just married in the past year or so. From sharing the progress and frustrations of making your own invitation envelops (Miss Emerald) to dealing with a mother who is against the wedding (Miss Tomato) to tying up loose ends like posting photos and name changes after the wedding (Mrs. Firefly), there are enough different women and perspectives to offer diverse insights into the trials and tribulations of engaged life and beyond.
Ethical Weddings
(ethicalweddings.com/blog/)
This wedding blog goes green and offers insight, inspiration and tips for hosting a wedding that ascribes to principles like sustainability and fair trade practices. With three bloggers sharing their wedding plans (two from the U.K. and one from the U.S.), this wedding blog is chock-full of wedding details and approaches that are "green."
I Love Weddings
(www.iloveweddings.blogspot.com/)
Andra from Calgary posts on all hip things wedding related. Her wedding planning blog is filled with posts that have pictures to inspire, and lots of links pointing to where she found the inspiration or products she blogs about. Many of the posts here highlight indie artists and designers and if you want a unique wedding, what better way than by including designs that really are one-of-a-kind?
The Knot
(www.theknot.com/)
Written posts offer products and ideas for dresses, rings, reception decorations, invitations and more. Also includes posts on parties in general. Chock full of pretty pictures to inspire you no matter what big to-do you are planning. The author has also teamed up with many different wedding planners where readers can ask specific questions about wedding etiquette or "wediquette."
Oh Joy!
(ohjoy.blogs.com/my_weblog/here_comes_the_bride/index.html)
This wedding blog has oodles of pictures for inspiration posted by a freelance designer who was married last year. She blogged about her own preparations and decisions in the wedding planning process (in Philadelphia) and has continued to post ideas and inspirations all wedding related. Oh joy! The eye candy here!
Wedding Fanatic
(www.weddingfanatic.com/)
This is a newer site and could become the best site for plain old-fashioned lists and tips. Authored by Katie Olson, a wedding planner in Missouri, her posts are full of advice, information and tips that are practical and fun including "13 Questions You MUST Ask Wedding Vendors" and "Starring the Bride," a list of 10 wedding movies to watch when you need a break from your own wedding planning.
From "I Will" to "I do"
(from-i-will-to-i-do.blogspot.com)
Written by a Anne Chertoff who has worked for Martha Stewart Weddings and Modern Brides magazines, her old blog is a treasure trove of resources for various cities and vendors and words of wisdom. With an archive of thrice-weekly posts from mid 2006 until mid 2007 there is plenty of good reading to be had. Anne has just moved to a new site (ido.ivillage.com/weddings/) that will now feature daily posts from her as well as other wedding experts around the country.
Junebug Weddings
(http://junebugweddings.com/)
A wedding blog from one of three wedding photographers
working together in Seattle, there is inspiration, eye candy and links posted here every few days. With loads of links to products and vendors as well as real wedding pictures and vendor information from Seattle and beyond, there is plenty to peruse here.
Hostess with the Mostess
(http://blog.hwtm.com/)
Although not specifically wedding related, this blog devoted to entertaining still has plenty in offer because after all, a wedding is at its core, a celebration and a party! With lots of posts and links to foodie sites, wedding sites, shopping sites and design sites, this blog is a good one to keep tabs on for all entertaining needs – from bachelorette parties to baby showers.
Renown Gift Blog
A little commercial here. Renown Gift blog is a wedding blog. We started it few years back and use it to link all of our wedding articles here. This way when you want to find a quick wedding door gift, wedding favors, wedding dress, or anything wedding, you can find it.