A potpourri is a long-lasting mixture of fragrant herbs, spices, and filler plant materials. You can easily make a potpourri to preserve your favorite summer fragrances in a jar. Look for recipes in herbal craft books, on herbal websites, or just create your own custom blends using plants from your garden or purchased.
You may decide to add exotic spices such as cinnamon or star anise, aromatic oils, and some colorful plant materials or interesting shaped dried flowers and seed heads.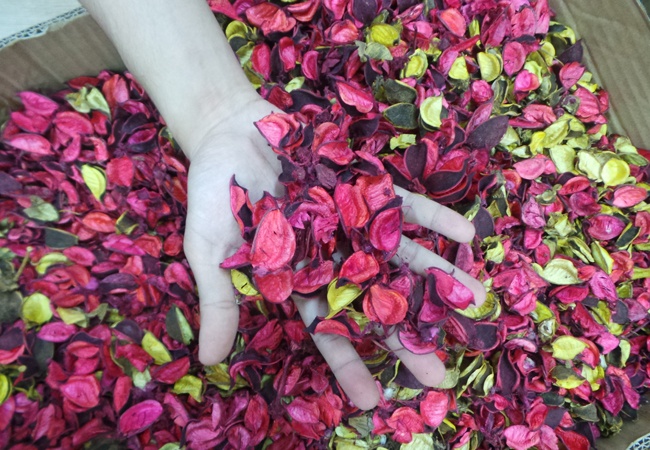 Potpourris can make wonderful gifts, easily enjoyed in a variety of ways. You can simply put it into ornamental jars or pots, where the fragrance will waft out every time the lid is opened. But why not be a little more adventurous? Use your potpourri to make sachets, hot pads, herbal pillows…
To make a sachet, you will need squares or rounds of colorful cotton. Since the fragrance is floral and spicy, you could choose floral prints, solid colors with lacy trim.
Place several tablespoons of your fragrant potpourri in the center of each fabric piece, and gather together the edges. Tie it with a colorful ribbon, a pretty cord or a piece of lace.
Lavender is probably the most desirable herb to use in sachets, but you can also use other aromatics. These sachets can scent your drawers, closets, luggage or even be tossed into the dryer to scent clothing.
As their scent decreases, put them into a glass jar, add a few drops of essential oil and put on the lid. In a week, they'll be ready to use again.
Herbal hot pads are easy to make, and they are always a welcome hostess gift. Use a pre-quilted fabric, or quilt your own pieces, about ten inches square. With right sides together, stitch 3 sides, and then turn right side out. Hem the open side, but don't close it.
Instead, add snaps or velcro to hold it closed. Make a second square bag with muslin or cotton, and stuff it loosely with potpourri or dried herbs. Ones that you use in cooking, such as rosemary, sage, and thyme, or spicy cloves, cinnamon bark or star anise will definitely suit a herbal hot pad. Sew it closed, and slip it into your prepared hot pad. As hot dishes are set onto it, those fragrances within will be released.
Herbal pillows are made like herbal hot pads, but here you can let your creativity soar. Make them rectangular, circular, or even heart-shaped. Use pretty ribbon or lace, or decorative stitching. Herb-scented pillows filled with lavender or hyssop are useful for helping people sleep. However, you can use any herbal blend you like. Again, these attractive pillows make special gifts.
Another way to enjoy a potpourri or a spice blend is to simmer it. You can simply add some to a saucepan of water and let it simmer on top of the stove.
However, you can often find a handmade pottery potpourri pot. These are often one piece, with space below to set a tea-light candle, and above a bowl to hold water with potpourri, essential oil, or spice blends added.
Just add water, some of your favorite herbs, essential oil or potpourri, light the candle, and you will soon have wonderful aromas permeating the air. One of these pots along with your special home blended potpourri would be a wonderful gift to give.
Read also: How I Started Making My Own Potpourri