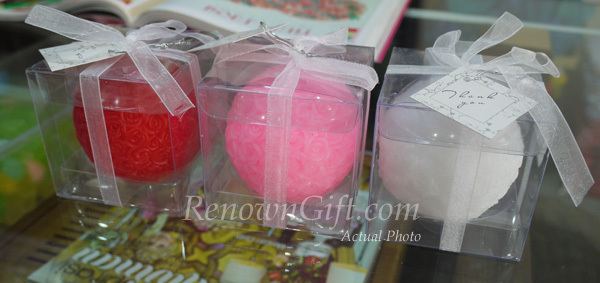 6.5cm Pink Wedding Rose Ball Candle
Code: CWF03B-Pink
Weight: 115g
Size:Width 6.5cm X Length 6.5cm X Height 6.5cm
Box Size: Width 7cm X Length 7cm X Height 7cm
Minimum Order : 100 pieces
6.5cm Red Wedding Rose Ball Candle
Code: CWF03B-Red
Weight: 115g
Size:Width 6.5cm X Length 6.5cm X Height 6.5cm
Box Size: Width 7cm X Length 7cm X Height 7cm
Minimum Order : 100 pieces
6.5cm Red Wedding Rose Ball Candle
Code: CWF03B-Red
Weight: 115g
Size:Width 6.5cm X Length 6.5cm X Height 6.5cm
Box Size: Width 7cm X Length 7cm X Height 7cm
Minimum Order : 100 pieces
Make the Perfect Impression with Rose Ball Candles
Don't ever be drained, frustrated or confused again. Our simplifies gift searching and giving and in here we take care of the wrapping too!
If you're looking for a gift that will leave a lasting impression, make a statement and be unique enough for someone special, Here is a great solution. We have something for everyone literally.
You can give these gifts for:
– Wedding
– School Spirit
– Holiday Cheer
– Birthday Celebration
– Birthday Gifts
– Newborns
– Creating Memories
Who doesn't love to have a great smelling home, office, car, locker, backpack or handbag? Not only does we make a good impression, it's also the gift that keeps giving.
Giving gifts is a great way to show how much you care and every time your family, friends, co-workers, neighbors or kids use their scented gift, they think of you! They remember how you thought of them on their special day or just because.
Candles and scents aren't just for women or mothers and they can be used in so many places for so many reasons. Think of the people you are buying a gift for. Do they have a home, office, car, handbag, backpack, diaper bag, locker or any other personal spaces? We makes those personal spaces warm and inviting with a scent selection for everyone.
So next time you feel frustrated with gift giving – no matter who it is – you can turn to us for the perfect gift solution.
We love making gifts that last a lifetime and create memories forever. Give us a call or email for the perfect gift solutions and ideas. You can relax knowing that your gift quest has a happy ending that continues to give and give and give!