If you are still struggling to find innovative candy boxes,
you may wish to stop at this candy box,
it is a small tray that you can put candy or small gifts on the tray,
do not underestimate it as this is a hot selling item in the U.S.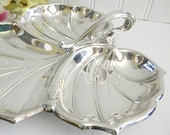 It is not only a high-end wedding PARTY decoration,
is also a great wedding gift.
Nickel texture and color (yellow little bit more than silver).
This wedding candy tray is not only premium candy boxes,
it is also a very worthy collection of gifts with elegance lace and perfect workmanship,
Through this candy boxes, it is sufficient to prove your heart and taste to your guests.
Other Favors That You Can Consider
Spring and summer have always been considered the most popular seasons for weddings. There's just something about the warm breezes and beautiful flowers that fill us with the spirit of love. Along with that love comes the perfect setting for a wedding.
Whether you choose to host your wedding ceremony and reception in a hotel ballroom or beachside, wedding favors have become a popular addition to the decorating theme. After serving their purpose as decoration, what better way is there to use them but as for gifts for your guests. Listed below are some of the wedding favors that you may consider of getting for your wedding other than the wedding candy trays that being recommended above.
Wildflower Seed Packets
Wildflower Seed Packets have become a very popular favor. Flowers are an eco-friendly symbol of springtime. Your guests will think of you when looking at those beautiful flowers growing in their flower boxes and gardens. Most seed packets are available in an array of colors and are offered as a set of 12 or more packets. Packets can be coordinated with bridal colors and perhaps used to accent table centerpieces. Seed packets can be personalized by using tags or by printing directly on the packets.
Theme Candles
Themed Candles are an adorable way to accent your bridal events. Candles can be found in the shape of just about anything you desire. Flowers, butterflies, boats, palm trees, cocktails, fruit, and wedding gowns just to name a few. Most are pre-packed in clear or decorative boxes and ready to be displayed or given as gifts.
Tin Pails
Favor Pails come in an assortment of colors that can be used for a variety of things at receptions. They can be filled with edible treats for your guests to nibble on during the introduction of the bridal party. Tea light or floating candles may be placed inside the pails for added ambiance. Your guests can take these pails home after the ceremony to use for storing trinkets or starting an herb garden.