What better way to make your occasion more special than a mint tin as wedding favor for your guests! These beautiful tins have been featured in our store for some time. The elegant designed mint tins are filled with delicious treats and are decorated with the bride and groom picture on it. These mint tins will be a special remembrance of your joyous occasion for all of your guests to enjoy.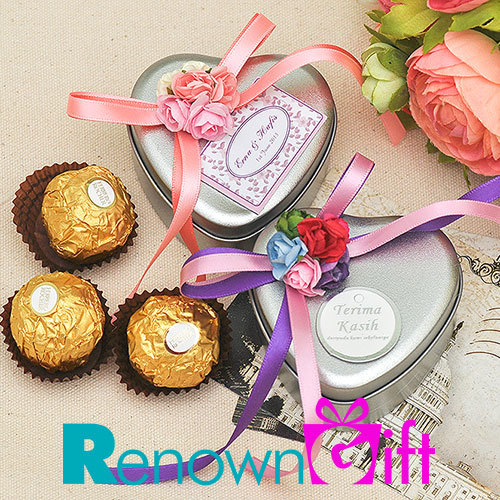 You can fill the tin box with treats, candies and chocolates as displayed on the pictures above.
Edible Favors To Fill in This Tin Box
Wedding Cake Cookies
In addition, you can also fill it with small wedding cake cookies that can make great tasting favors for your inviting guests. You can buy cookies from your nearby bakery shop and choose for different colors combinations that provide more variety for your guests. You can get some premier ingredients to make the cake cookie to be more yummy and wrap each cookie with decorated satin ribbon.
Once the cakes are ready, they are going to be very attractive presenting in table place setting or on a wedding reception. You can choose any customization you like for these cake cookies.
Mint Packs
Choose from a formal wedding favor to the whimsical! One style or the other will surely fit with your wedding theme. You may select from a variety of colors for your personalized bride's and groom's names and wedding date. You may also choose your favorite ribbon color to coordinate with your wedding. Each mint package includes two sealed wintergreen mints. Your guests will love them!
Chocolate Favors
"What a perfect way to thank your guests with these beach inspired chocolate favors! Each favor contains a solid white chocolate shell and a solid dark chocolate. The fine chocolate can be get from store that sell chocolates that imported from Belgium and is a true treat for your guests.
You can further wrap the chocolate with a personalized tag. Some assembly is required. These favors are certain to be a hit at any beach theme wedding or bridal shower.
Peppermints
You can go and get some cool down delightful spring and summer-themed peppermints in whimsical polka dots. These are perfect for any outdoor spring or summer party and great for your beach wedding. Mint choices include wintergreen or peppermint. What a festive way to thank your guests for sharing your special day.