Pretty Paper Bag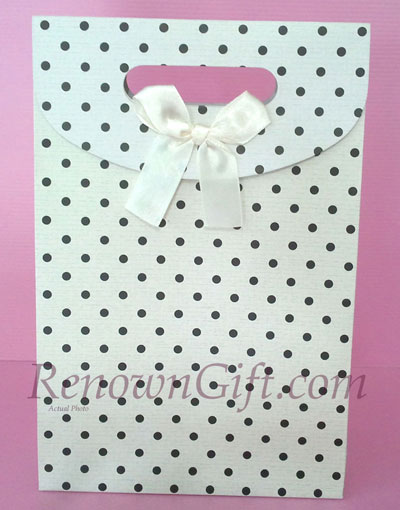 GGB01 (White paper bag with black dot)
A paper bag can be a favourite kind of paper carrier typically used to carry wedding favor items. Many people found it is a wise choice for them to use this paper bag for their packaging since they're cost-effective to make, convenience and they're able to recycle. Because of these, this paper bag is getting more and more popular these days for many people to use for the wedding events.
As mentioned just now, paper bag happens to be an item which can be reused. These days, recycled items are definitely the most favourite products for many people for them to use in different occasion and events including wedding. This is due to the fact that most of the people are starting to accept the go green concept and also the campaign for taking care of the environment. On a daily basis, we quite often hear the saying like: no more pollution and stop global warming. Most of these words severely warning us to take a serious concern about the environmental sustainability. Hence, with the use of recycled paper bag, it is one of the best ways to demonstrate to other people in which you are well aware of the environmental situation. People will even show more respect to you and for the couple who are using paper in their wedding to give away the guests of their wedding favors, the guests will also feel relish about this as they know that you are taking an action to protect the environment.
Wedding Paper Bag
Wedding paper bags will be able to add a personal touch to thanks your special invited guests. These paper bags can provide you with sufficient space to put in many different type of wedding favors such as a gown candle, glass photo coaster, candies, chocolates, souvenirs or other items that can easily fit into the bag. There are total of six different bag designs that can be used to go with your personal needs and to give away for your friends and family. You can order this favor paper bags so that you will be able to show your appreciation to friends and family for presenting themselves on your wedding day and share with you on your special day.
Overall, this kind of bag is a useful item. Many families love using this paper bag to hold their items when they are having a wedding event. The bag also can used to contain door gift and give away to guest for a dinner. You can get this useful bag in bulk without you to pay a fortune for this. Today, this kind of paper bags have turn out to be very popular leisure event items due to they are inexpensive, appealing and effective.