Swans are one of the most beautiful birds that we can find in this globe. Traditionally, Swans are symbolized as signs of love, grace and purity. Swans are often represent as "mated for life". As we can see from our life that at the time two swans are in pairing, they will form a shape of a heart which can be a very beautiful scene for people to observe. Thus, at the moment you are having your heart set on carrying a swan as your wedding gift to give away for your invited guests to your wedding ceremony, your guests are going to be very please and welcome of such lovely gift. This swan candy box can be a very pretty wedding favor which is made out of high quality transparent PVC and you can see its appear to be very eye catching.
Product Description
Swan Candy Box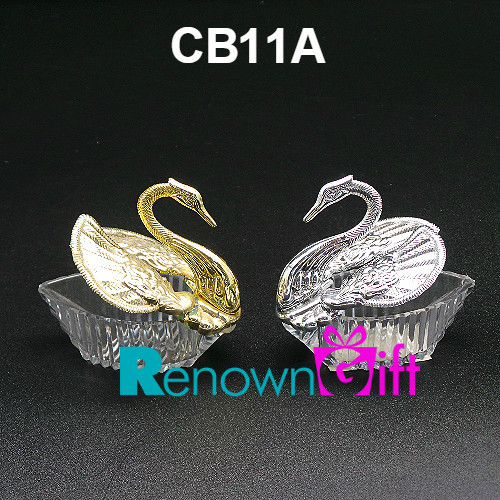 If you are looking for an unique and special door gift to thanks your guests.
You may consider this elegant swan candy box.
As swan is a symbol of love, purity, grace, beauty and creativity…
this swan candy box is an excellent choice to surprise your guests.
width 5cm x length 7cm x Height 6cm
Materials:
The swan's neck and wings are made of silver plastic, and the swan's body is consist of transparent plastic box sized 6cm*3.5cm*2cm, decorated with pretty white organza.
Organza Colours are available in Red, Pink, Purple, Yellow, White.
Click here to order the swan candy box.
Click here for more organza wrapper details.
Swan Theme Poems
Poem lyrics of The Wild Swans At Coole by William Butler Yeats.
The trees are in their autumn beauty,
The woodland paths are dry,
Under the October twilight the water
Mirrors a still sky;
Upon the brimming water among the stones
Are nine-and-fifty Swans.
The nineteenth autumn has come upon me
Since I first made my count;
I saw, before I had well finished,
All suddenly mount
And scatter wheeling in great broken rings
Upon their clamorous wings.
I have looked upon those brilliant creatures,
And now my heart is sore.
All's changed since I, hearing at twilight,
The first time on this shore,
The bell-beat of their wings above my head,
Trod with a lighter tread.
Unwearied still, lover by lover,
They paddle in the cold
Companionable streams or climb the air;
Their hearts have not grown old;
Passion or conquest, wander where they will,
Attend upon them still.
But now they drift on the still water,
Mysterious, beautiful;
Among what rushes will they build,
By what lake's edge or pool
Delight men's eyes when I awake some day
To find they have flown away?
~~~~~~~~~~~~~~~~~~~~~
Elegance of a Swan by Joyce Hemsley
Every thought in my head
Each love phrase you say
Combine to make my
Heart dance…
Giving my muse a chance
To write fond memoirs
Of our golden day.
And as I'm in love with the
River of life, and classical
Music is rife, I can dream
With my darling as I float
On the pond, with the
Elegance of a 'Verdi' Swan.
~~~~~~~~~~~~~~~~~~~~~~
Her Triumph by Ben Johnson
See the chariot at hand here of Love,
Wherein my lady rideth!
Each that draws is a swan or a dove,
And well the car Love guideth.
As she goes, all hearts do duty
Unto her beauty;
And enamour'd, do wish, so they might
But enjoy such a sight,
That they still were to run by her side,
Through swords, through seas, whither she would ride.
Do but look on her eyes, they do light
All that Love's world compriseth!
Do but look on her hair, it is bright
As Love's star when it riseth!
Do but mark, her forehead's smoother
Than words that soothe her;
And from her arched brows, such a grace
Sheds itself through the face
As alone there triumphs to the life
All the gain, all the good, of the elements' strife.
Have you seen but a bright lily grow,
Before rude hands have touch'd it?
Ha' you mark'd but the fall o' the snow
Before the soil hath smutch'd it?
Ha' you felt the wool o' the beaver?
Or swan's down ever?
Or have smelt o' the bud o' the briar?
Or the nard in the fire?
Or have tasted the bag of the bee?
Oh so white! Oh so soft! Oh so sweet is she!