Here are some pictures sent from our customers for the double happiness candy boxes that they purchased. Please share the happiness with them….
Photos shared by Catherine Lee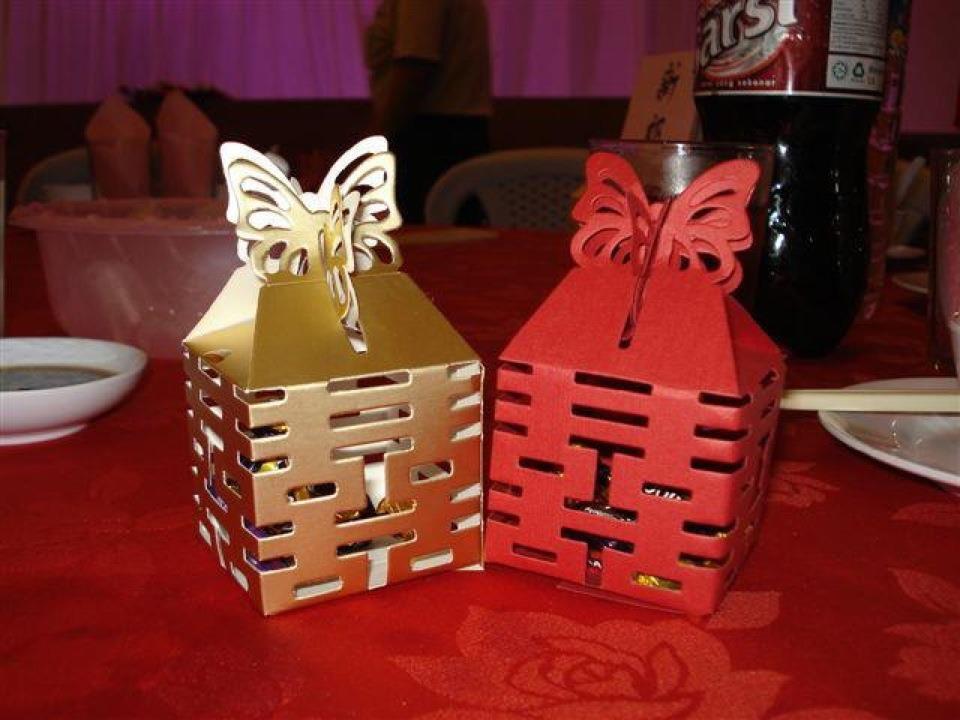 Catherine Lee: Nice Gift box for my brother's wedding..!!
Little Wedding Favor – Double Happiness Favor Boxes
Wedding Favors have graced reception tables for as long as anyone can remember. Although the exact origin of wedding favors is not known, the premise behind the tradition remains the same: offer thanks and gratitude to your guests on the wedding day.
Modern day wedding favors now go beyond the scope of buttermints and wrapped netted potpourri bags which seemed to be the tradition favor items.
In the present however, it is not uncommon to see such things as chocolate wedding favors. One example would be chocolate covered strawberries which are designed to looks like Chinese word of double happiness as shown at the pictures. These wedding favor boxes are growing popular to serve as a lasting gift.
Other Favors For Different Occasion
It seems everyone is looking for that special unique wedding favor, one that the wedding guests will remember. For beach or seaside destination weddings, you now can choose from a wide variety of beach wedding favors. Seashell candles that are personalized can be a great way to light up the night. Also another candle wedding favor that have been used quite often are miniature adirondack chairs that serve as a placecard holders. This serves a dual purpose in lighting up the night and also holds the placecard as well. Beach-themed photo albums can provide a nice keepsake for wedding guests as well.
Hand-blown Glass Shell wine charms are a great unique beach-themed wedding favor for weddings and also doubles as a lasting and useful gift for wedding guests. Another useful gift would be seashell-handled spreaders as a wedding favor. Finally, "Beach in a Bottle" wedding favors truly are one of the most unique wedding favors. Every bottle contains real sand and authentic seashells and can be personalized as well.
Personalized wedding favors usually have the bride and groom's names and wedding date or a short personal message thanking the wedding guests for attending the wonderful celebration. Personalized live roses are one of the most innovative and unique wedding favors. Live roses actually have printed on the petals, an inscription or short message according to the order of the bride and groom. Personalized mint tins make a wonderful modern day wedding favor.
Between the different designs and the personalize message, this will for sure be a truly unique wedding favor. Personalized CD cover wedding favors are a great way to package your wedding CD that may contain special moments on DVD or pictures, and possibly songs that are played at the wedding. Personalized seed packets are becoming more and more popular as wedding favors. These are seeds which can be custom picked, (choices can be wildflowers or just a certain kind of flower) and they are placed in a packaging with bows and ribbons often with a personal message like "Plant these in honor of our wedding day" or "Plant these seeds to symobolize the beginning of our new livers together."