A lot of people tend to love to have their wedding cards specially designed to ensure the overall look is totally personal, however think about how fascinated your guests might possibly be in case the wedding card was way too personal, like having a picture of the bride and groom inside the card.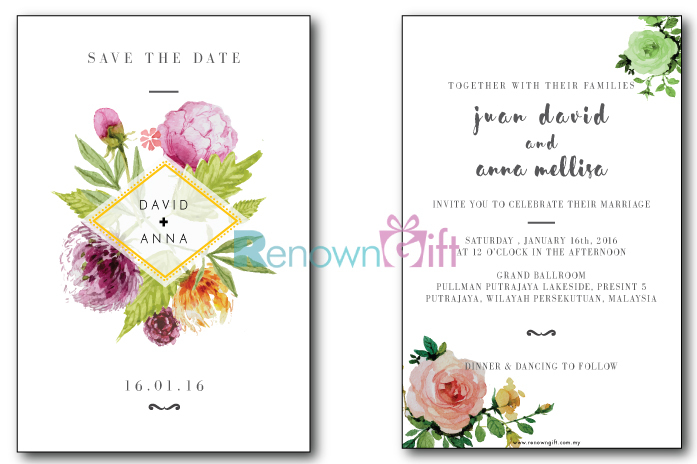 Choose the Right Theme For Your Wedding Card
It is good for you to choose the right template and theme in the first place so that you can have sent them over to your invited guests without any hesitating feel. We know that most people generally having once in their life time for getting married, so for getting a unique wedding card which is wholly personal can actually improve the overall wedding feel that can help to level the wedding day.
For traditional wedding cards, most of the cards are usually devoted to pale colors, or on a shaded, solid-colored background. However, as time changed, most couples have now relish for more daring and dazzling styles even while trying to stick with traditional wedding themes. As opposed to pale purple or pink, most wedding cards are now being replaced with trendy cobalt blue or magenta. By going for this kind of tinted and solid-color background, it creates a totally different wedding feel. Likewise, designs and styles used for the background are created completely of vivid and eye-popping colors.
If you want to order wedding card but the costs are your main concern, you can try to seek for wedding cards that include everything that you need. A normal wedding card will consist of all standard information such as location, venue, date, couple name, and simple maps. While for some premium wedding cards, other than the costs for design and printing, they may add some extra items like a return envelope or a menu card. If you want to save cost on this, you may consider of choosing the casual wedding card that have all necessary information on both sides of the card. The announcement and wedding venue generally will be placed on the front and directions are at the back.
In case you wish to go for casual wedding card and want to see some samples and tones of the cards, you can actually search online as there are a lot of online wedding card shops that display card samples on their websites.
You can save some costs by having the response/RSVP information inside your wedding card instead of choosing to send with a separate card. This may as well save extra waste of the paper which is not eco-friendly at all if you do so.
Advantages of Getting Wedding Card Online
Check out for the benefits that you can get if you are shopping online for your wedding card:
– Have the chance to see how the wording of your personalized wedding card actually looks like before ordering them
– Getting unique and exclusive designs
– Enjoy free shipping if you order for certain amount
– The wedding card that you choose will be emailed to you, and it is possible for you to make indefinite changes without additional charges.
– You may customize the wedding card by adding a photo or logo to the card
– Those online shop can change the color or design on their site
In conclusion, wedding card could be custom made to suit your needs and requirements. It is less expensive as well compare to traditional old-style cotton stock paper. The trendy wedding cards that you can have today is produced in contemporary photographic paper which makes a much better surface for printing and pictures printed on photographic paper tend to look natural and practical compare to traditional old-style cotton stock paper that have less glossy surface.