Some couple are keen to have their wedding favors that feature with bride and groom design. Thus, to accommodate their needs, here I have collected some of the wedding favors that are relevant to the design of bride and groom as well as wedding gown, tuxedo, and tie that may be the favors that you want to have for your wedding. You may read on and find out which one is matching you or do a comparison for different bride and groom favors to find out the right one for yourself.
Bride and Groom Glass Coaster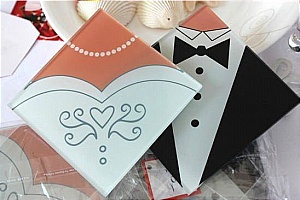 The good looking gown of the brides and the gorgeous tuxedo of the grooms are there to create a long lasting impression for your guests to get hold of these elaborate wedding glass coaster favors. Each set of the coaster includes two pieces of square glass coasters, one displaying a tuxedo complement with a bow tie while the other one featuring with pearl necklace embellished wedding gown. Each of this bride and groom glass coaster set is packaged with two coasters next to each other inside a clear box. The box is strapped with an organza ribbon and an affixed wedding bell shaped tag.
Bride and Groom Mint Tin
Within the "Dressed to the Nines" mint tin collection that are available, these types of classic wedding gown and tuxedo design mint tins can be elegant wedding favors to place on wedding reception tables. These wedding gown and tuxedo design mint tins are ideal for you to use them to mix and match up with all the ladies and gentlemen who are attending your wedding by containing some candies or chocolates inside the tin. To make the mint tin even attractive and eye-catching you can use an organza wrapper to wrap the mint tin. Each of this mint tin is having a measurement of 2 1/4 " x 1 1/8″. You can use your own imagination and creativity to makes this stylish container by inserting some special treats or treasures for your guests to take them home.
Bride and Groom Salt & Pepper Shakers
These enchanting salt & pepper shakers can easily depict the enjoyment of the bride and groom for each other!
Each set of this salt & pepper shaker is available with complementing porcelain shakers which are designed to make them appear to be similar to bride and groom dressed up in their wedding day finery. One shaker is featuring with a white wedding dress while the other shaker is having a black tuxedo and bow tie.
These fanciful wedding favors may also be used as reception hall decor for your engagement party or wedding reception. These favors also make it possible to season your wedding reception tables as each set has a porcelain bride and groom dressed in the most beautiful wedding outfit. The shaker sets are placed in a clear-topped silver box with white organza bow and matching silver heart-shaped "For You" tag.
Each of this salt & pepper shaker is having a measurement of 2 1/2″ x 1 3/4″.
Bride and Groom Favor Boxes
These bride and groom favor boxes will certainly embellish your wedding reception tables with enjoyment and glitz. You can place candies or chocolates in these formal gown and tuxedo favor boxes. These types of wedding favor boxes are dressed up and ready for you to give away to your guests on your wedding or engagement party. Other than containing candies or chocolates, these bride and groom favor boxes also are ideal for you to put in bridal shower favors or bachelor party gifts.
These favor boxes feature stand-up collars and lapels with a measurement of 2″ x 1 1/8″ x 4″. The bride dress boxes are pre-punched for threading included 3/8″ x 12″ white satin ribbon, and measure 2 5/8″ x 1 1/2″ x 3 5/8″.
Bride and Groom Square Wedding Box
Paying attention to all details happen to be just what exactly make a wedding day to be a very special moment for you. Thus, it is good for you to get these delightful wedding favor boxes which are diligently made with black tie tuxedo or white bridal dress.
This square cupcake boxes can be used to contain small size cupcakes and also some goodies like candies, cookies, chocolates, or an egg. The inner bottom of this square cupcake box is uniquely designed to support the bottom of the cupcake to prevent movement. The cupcake boxes are made with high quality art paper with matte lamination.
Measurement of the size of the box is: 6cm x 6cm x 6cm