Every woman dreams of the perfect wedding gown as she walks down the aisle.  Tons of questions are in mind starting from the color, design, fit, designer and a lot more.  Would she want a detailed gown or a simple white dress or an extravagant dress?  Whatever it is, the bride to be is set to face a lot of ideas, questions, suggestions and more so with things to consider.
Knowing Want You Want
It is very essential to know what the bride wants.  With that, the next thing to do is to know the trends of the season, so you can plan accordingly.  If the bride has already a theme in mind, a little touch of contemporary twist to the design will give it a different twist.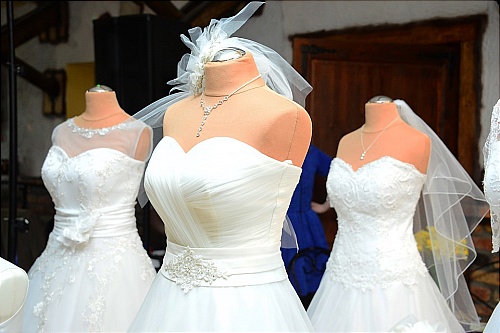 If the bride has the budget but without enough time, the bride can consider going to a wedding planner and or event stylist, it will be their job to see to it that everything will fall in perfect timing for the most awaited wedding day.
As previously mentioned, the trend of the season is vital in determining what gown the bride would want to wear.  However, the bride's preferences will always be the paramount consideration in making the design.  Materials such as chiffon, orgranza, silk, crepe and shantung are often the favorites and commonly used by most brides.  Details range from colored beads, stones, gems to appliques to intricate embroideries.
Showing Skin Dress
Showing skin is very common and trendy unless you would opt for a conservative type of dress.  Spaghetti straps, bustiers, semi-bias cut gowns and sheaths are exceedingly favored among the professional designers.  Accessories should always be considered when designing the gown.  Pearls, crystals, diamonds are perfect for headpieces however, when the bride's gown is already full of intricate details, fresh flowers are the next best option.
Dresses Suited For Pear-Shaped Women
For the fit, figure wise, pear-shaped women can turn to bouffant and semi-balloon skirts or dresses to help in concealing their hips.  For the tops, they can choose the tube type of dress or low necklines to divert attention from their hips to their great cleavage or make their neck look swan-like.  Those with wide shoulders and small hips can go with an A-line type of dress with detachable train to highlight what is best with the figure.  Full figured women can still go for bouffant dresses only noting whether to use a petticoat.  Petite brides, however, should stay away from bouffant skirts as not to overwhelm the figure.
Sharmanlow, a freelance writer and a barbecue fanatic, loves her home-cooked barbecues. She is not really good in cooking but because of the excellent performance of her built in grill, she makes her barbecues mouth-watering. Her built in barbecue grill is one of the latest model of Fire Magic.