With all the buzz on gender equality during the last few decades, it is not surprising that men's engagement rings are a growing trend in the wedding jewelry category. Modern couples believe that it is just as important for the groom-to-be to have a tangible symbol of commitment during the engagement as it is for the bride-to-be. Add that to the emergence of women taking matters into their own hands, so to speak – one famous example is the musician P!nk who proposed to her boyfriend, Carey Hart, during a motocross race. But what is it that clearly defines a man's engagement ring? The ones below are some of the styles that have proven to be growing in demand: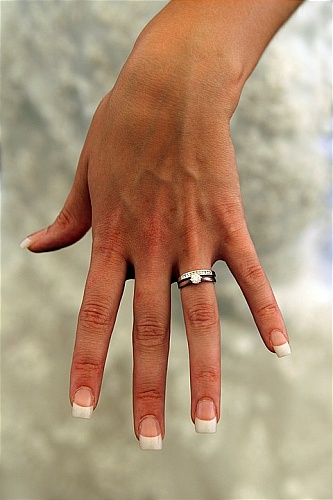 Plain Bands
If you want a simple, traditionally masculine style, plain bands are the way to go. Their only difference from wedding bands is the fact that they are made quite a bit wider, and thus looks like regular decorative jewelry.
Carved Bands
Carved designs add a personal touch as well as additional decoration. These designs range from simple etchings to elaborate rope designs symbolizing eternity, as well as religious symbols like crosses or the Star of David.
Two-Tone Bands
Combining two metals to create a two-tone ring is also a popular option, as these types of bands can be worn with pretty much anything without the risk of clashing. These metals can be anything from yellow and white gold, silver, to black tungsten and even titanium.
Diamond Rings
Diamonds are the gem of choice when talking about engagement, but in the case of men's engagement rings, the stones are usually smaller accent pieces instead of being the focus. They can be studded around the band, spaced equally, or solitaire, embedded into the metal.
As you may have noticed, men's engagement rings are reflective of the difference in men's and women's style. Although at times there are certain exceptions, like pieces which are meant to stand out (signet rings, college rings etc.), Men's accessories are generally subdued, rarely flashy, but is still able to call attention without being loud. This might be suggestive of the characteristics of an ideal man; deep, reserved and unwavering. Also, these pieces need to go well with the usual articles of clothing men wear. Suits and tuxedos almost never deviate from the classic look, hence the need for accessories which would go well with dark colors and straight lines.
Erica Yu works as a sales assistant at Brilliance Online Diamonds. During my free time she likes to writecreative fiction, as well as contribute articles and stories to her favorite blogs and sites.