Whether you're a reluctant groom who can't imagine anything more uncomfortable than having to arrange a wedding car, let alone a whole wedding, or a beaming bride who has had everything down to her underwear picked out for years before she even started dating, choosing a wedding reception venue can be a really difficult decision. You may have too many choices or you may have too few choices, but whatever you choose must fit certain criteria. To help you choose, here are some of the main things you need to think about that should help you narrow down your choices: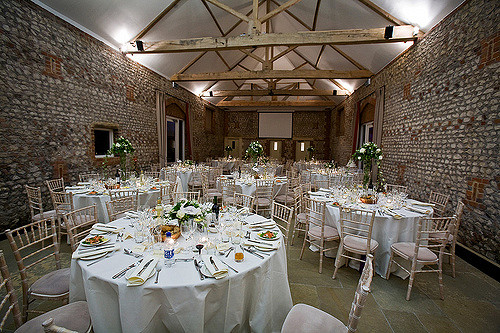 The Right Size
If you're going to invite a couple of hundred guests, you need to be sure that your venue is going to be big enough. Go through all your options and find out their capacity. Conversely, you don't want your venue to be too big either, or else you might find your intimate party lost in an aircraft hanger like space. So get your capacities down and ask the venue manger what numbers work best.
Perfect Location
You have to think carefully about how far your reception venue is from your wedding ceremony. There has to be a balance between the perfect reception venue and one that doesn't take hours and hours to get to. Think about your guests as much as you can when planning your wedding, because if they aren't happy after they've had to get a train and a bus and a boat to get to your dream lighthouse venue, then your day will be ruined. 30 minutes is the maximum distance your reception should be from your ceremony…unless you have helicopters.
Best Atmosphere
Getting a place with the right atmosphere is your next task. Talk with your soon to be spouse about what sort of feeing you want your party to have. You may want a minimalist goth theme with a gung tank and happy hardcore disco, or probably more likely, you will want something traditional and cosy in a warm colourful building with a bit of character. Country houses, hotels and castles are great for achieving this atmosphere but they tend to be popular and expensive. However, you can normally achieve a similar feeling in a cheaper venue with drapery, lighting and well decorated tables.
Convenient Accommodation
One last thing to consider is where your guests are going to stay. Ideally they should be able to stay at the reception venue, but if not there should be somewhere nearby. Otherwise your party may end early if people have to travel far to get their head down.
Aldo Grant works for a very popular wedding venue in Edinburgh and has many years' experience when it comes to making sure the bride and grooms day goes perfectly.