Are you interested in learning the art of ribbon embroidery? There are many people who are interested in learning embroidery but giving up later because they think it is difficult as they can't manage the complication of the designs and patterns for their finished craft products. However, as long as you have master the skill, you will discover it is not that difficult where everyone also can learn the way to make it.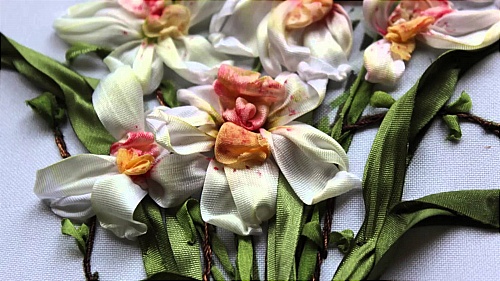 When you start your learning journal, you should first start with silk ribbon embroidery as it is the best approach for you to start your learning on the craft of needlework. For your first project of silk ribbon embroidery, the stuff that you need are just the fabric, silk ribbon, as well as a needle with an eye that allow the ribbon to pass through easily.
You may refer to the provided video tutorials later to learn the different embroidery.
Unique Forms of Ribbon Embroidery
Among the most exclusive forms of embroidery would be the ribbon embroidery. People can work with that to make some incredible types of designs for virtual all sorts of materials. You will find many different kinds of stitches that you can use in ribbon embroidery to create very cool designs.
Some of the most popular stitches that many people using in their practice are standard type of ribbon embroidery stitch, stem stitch, French knot, and traditional straight stitches.
Standard Ribbon Embroidery Stitch Part One
Standard Ribbon Embroidery Stitch Part Two
French Knot
Stem Stitch
Traditional Straight Stitches
As of today, the use of ribbon embroidery has evolves to items other than garments and clothing. Generally any materials that can be embroidered were embellished with ribbon embroidery and among the materials including scarves, bonnets, purses, and other vogue accessories.
There is also people use ribbon embroidery to decorate their house like picture frames, lampshades, tablecloths and pillow covers. The matter of fact is, ribbon embroidery is nothing new but been first introduced in the Middle Ages in human history but it is still widely use even in today.
Ribbon Embroidery Patterns
For hand embroidery patterns and designs, the materials that you can choose from including canvas, lace, ribbon and cross stitch. The lace and ribbon embroidery is used to create floral patterns. These are suitable for beginners in the art of hand embroidery patterns because they are not very hard for hands on. If you been in the field for a while, you will come to know that the cross stitch is the major method of hand embroidery which is very popular. You have many different designs that you can choose from in case you are comfortable with the cross stitch. Even this method is simple but it involves intricate work due to you need to count the number of stitches and also the colors to get the right pattern.
Other than cross stitch, there are still other methods that you can use for hand embroidery patterns. Those are canvas work, and lace & ribbon embroidery. The material that is the most suitable for these methods is the woven fabric since it enables ones to create beautiful patterns.
Various Ribbon Embroidery Designs
The below stated fabric designs are very popular:
Clothing Embroidery Designs: You may just download the digitized images from the internet for your clothing Embroidery designs. Among the embroidery designs that you can choose from are ladies garment, men's wear, dinner suit, fashion wear, dinner suit, children clothing and etc.
Household Embroidery Designs: Items include carpets, tableclothes, bed sheets, curtains. Normally these items will be done by specialists due to the intricate designs, sizes and colors.
Towelling Embroidery: It is commonly creates on a thick fabric which is especially suitable for towels.
Logo Embroidery Designs: Logos are typically created for T-shirts, trousers, jackets and gloves. These designs also need to carry out by specialists either on demand basis or custom-made. Such designs need creativity and the utmost attention.
In case you are really interested and wish to learn about the craft of ribbon embroidery, you may refer to below video tutorial for different techniques in your ribbon embroidery designs.