Now this is not to suggest that you will forget that you got married, it is to do with the fact that most couples say that their wedding day seemed to go by in a flash. No sooner have they woken up, they are immediately whisked along a very well organised schedule of pre-wedding, wedding ceremony and reception, before they wake up the next day with a new ring on their finger.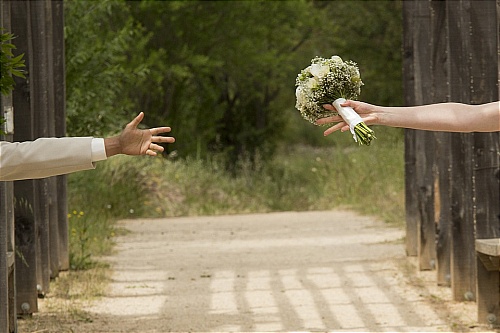 A nice tip is to ensure that throughout the day you take 5 minutes alone together every few hours to catch your breath and to absorb and embrace everything that has happened up to that moment.
But how best to remember it afterwards? Here are 5 good suggestions:
Wedding Photographer
This one is obvious. Hire a professional wedding photographer to capture all the important moments of the day. The will shoot the bride getting ready, the people waiting at the church, the bride arriving and so on, all the way through to the end of the reception.
One of the best things about a professional photographer is that they are less likely to lose their memory card (i.e. all the photos) and they can pick the best ones and put them in an album for you afterwards.
Cameras on Tables
Often the most candid photos come when guests take pictures of themselves. By placing cheap disposable cameras on the tables you allow everyone to get snapping. It is exciting to get them developed afterwards and see all the good, and terrible, shots that have come out.
Guest Book
A guest book is just a simple book of blank pages that guests all write in at some point in the evening. They might write some words of congratulations, give you some advice or just draw a picture. Whatever they write, the book will always be a great memento to look back on long after the wedding.
Photo Booth
A photo booth is literally a photo booth, like the one you use for getting your passport photos, that is installed at the reception. Except it's free and guests are encouraged to go in throughout the night and take nice or silly pictures.
Video
Sometimes a straight video of the wedding can be a bit boring, but if you get someone to edit to in a fun way and to add music it can be a fantastic memento of the occasion. Just be sure to hire a company that is professional and won't miss special moments or get in the way of proceedings as this can be really annoying and can spoil the day.
Gavin Turner works at a wedding venue Edinburgh. He loves weddings and plans to have his own at a nearby conference venue Edinburgh because it's cheaper.