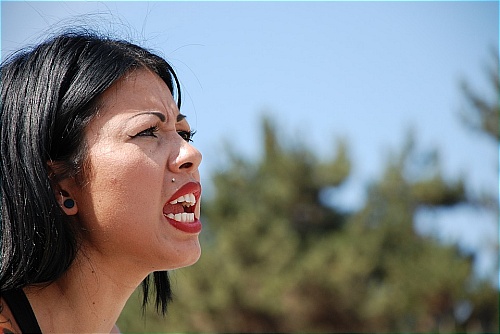 The months leading up to a wedding can be some of the   busiest and most stressful times in a soon-to-be bride's life. There are locations to book, menus to go over, bands to choose from and of course, dresses to try on. A wedding has to be perfect, and the last thing any bride wants to worry about on top of everything else is the price tag.
Not including the cost of a honeymoon, the average American couple will spend over $25,000 on their wedding, a chunk of change that many couples simply do not have to spend. Luckily, there are a number of ways to reduce the cost of your special day without ruining any of the beauty and romance you so desire. In this article, we have compiled five tips to help you afford the wedding of your dreams on a limited budget.
1. Design Your Own Wedding Centerpieces
Hiring a professional designer or florist may be tempting, but taking the time to create your wedding centerpieces yourself can save you a lot of money. The internet is full of do-it-yourself ideas, all using affordable items available at most craft or hardware stores.
2. Consider Online Invitations
There is no need to send out fancy professional invitations and save-the-date cards if you don't want to. In this day and age, with social networking being what it is, it is easy to send out electronic invitations to your guest via the internet. This method is better for the environment and your budget!
3. Have a Barbeque Instead of a Fancy Three Course Dinner
With the rising costs of food and catering services, many couples are opting for "backyard" style weddings or receptions, with food they or their family members bought and cooked themselves. It might not be as elegant as an expensive steak and seafood dinner, but there is an element of relaxation and fun that goes along with these sort of celebrations that may not be there in a stuffier dinner reception.
4. Have Your Guests be Your Photographers
Instead of hiring a pricy professional, consider gathering a few high quality digital cameras and handing them out to a handful of trusted guests. You will end up with hundreds of lovely pictures to help you remember your wedding, and knowing that the pictures were snapped by your own loved ones, not a stranger, will make them even more special.
5. Be Creative With Your Dress
Who needs an expensive designer boutique? Outlet stores, malls, discount bridal shops and even thrift stores are all great places to go on the hunt for an affordable gown. You may also want to consider finding a bridesmaid's dress that you like and then special ordering it in the color you want, as bridesmaid's dresses are usually far more affordable than wedding gowns.
This post has been provided by Crystal World, a premiere manufacturer of crystal chandeliers and wedding supply rental company. Click here to search our selection for the perfect wedding supplies for your big day.