The first wedding anniversary is known as the year of adjustment, where you spend your time getting used to living with (or being married) to your spouse. It's also usually considered one of the most romantic years, so it's important that you do something nice for the year.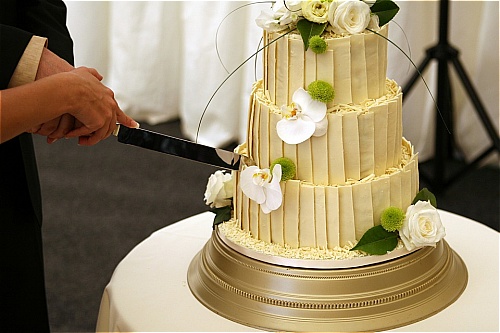 Everyone knows that the first year can be a stressful one, and your first wedding anniversary is a great time to renew your love, and relax with each other. While you can celebrate with friends or family, I personally recommend that you do something together.
Turn Off Your Cell Phone
There is probably nothing quite so important for prolonging the romance of your first wedding anniversary as turning off your cell phone. Your texts, calls and work emails can wait for one day. Turn your cell off and spend all of your time solely devoted to your spouse. You can politely request that they do the same if it is not done automatically. Simply suggest that you don't want to 'share' on this special day.
Romantic Dinner for Two
There's nothing quite as bonding as sharing a good meal in a romantic setting. Whether you prepare the meal yourself, or go out to a fancy restaurant is up to you. Just remember that the dinner has to be about the two of you and nothing else.  If you make the dinner yourself, try choosing a meal that both of you love, decorate the table with flowers and candles, and then be as cute, sweet and funny as possible during the dinner.
Go On a Date
Most of us fell in love while dating, which is one of the reasons why it's a great idea to go out on a date for your first anniversary. Tell your spouse to be ready at a certain time, leave the house an hour or so before the big event and plan everything out. Drive up, ring on the doorbell, and ask your spouse to come with you for a romantic surprise. While that surprise can be anything from dinner and a movie to a midnight walk in a park, you should have fun. Usually it's a great idea to re-do your first date. Many married couples can get caught up in the day to day stress of life and forget about why they originally fell in love, going on a date can rekindle that, and all of the magic, in just one night!
Buy Flowers for Your Spouse
Flowers are a great gift for anyone. While women tend to appreciate them more, men love them as well. Pansies and orange blossoms are traditional first anniversary flower gifts, but you can also choose to purchase favorite flowers, or something that you bought him or her in the past.
Remember that your first wedding anniversary should be all about romance and surprising your partner. Remind him or her how much you care, and go out of your way to let them know they are still your one and only. Usually, it's a great idea to buy a gift for your partner as well. If you choose to purchase a gift, paper and cloth are two traditional first wedding anniversary gifts. Clocks are a more modern expression of the first wedding anniversary.  Journals, stocks and bonds, calendars, post cards and stationary all make beautiful gifts for a first wedding anniversary. You should choose a gift based on what you know about your partner (what will they love) and what you think will surprise them. For example, you don't have to stick to paper, or you could be extremely creative with paper. Getting a pair of flight tickets for a second honeymoon is also considered a paper gift.
You can check online to find anniversary gifts by year and the most perfect wedding anniversary gifts for your spouse.