You wouldn't think that a simple little thing like a cupcake or fairy cake could bring out the competitive streak in a seemingly ordinary person. Baking however has never been so fashionable, and millions of us tune in every week to watch shows like Great British Bake Off or see Kirstie Alsopp try her hand at various different crafts. Kirstie's latest TV venture showed her entering her baking and crafts in agricultural shows up and down the country, and although the image of these shows is all about blue rinsed ladies, strawberry jam and Victoria sponges, in recent years it has all got a lot more competitive.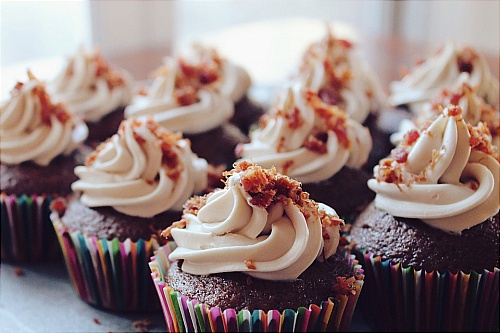 Classes and Entering
Most country shows or agricultural events have an Industrial or Homecrafts section, and this is where you will find the baking and cooking competitions. Schedules are published on the website, and entering is as simple as printing off the form and sending it in with your entry fee, which is normally around £1 for each item you are entering. Categories are very precise so make sure you have fully understood what is required of the competitors. If, for example, you are asked for a round chocolate sponge and turn up with a square one, you will be disqualified. Don't be too ambitious with what you are entering; two or three different items is plenty for the novice competitor.
Preparation
Practice is the key when preparing for any kind of competition and baking is no different. A month in advance, check you have everything you need in your kitchen to bake in batches such as bun trays, paper cases, mixing bowls and plenty of wooden spoons. Buy new bulbs for your blue retro kitchen lights so that you are not plunged into darkness at that critical moment of cake decorating. There will probably be no shortage of volunteers to sample the end product, but ask for constructive criticism rather than allowing children to demolish all of the baking without comment.
Night Before
Agricultural shows generally run over a weekend, and will open their doors very early on the first morning of the show to allow bakers to drop off their items. Bake the night before, bearing in mind the time it will take for items to cool down. Think about how you are going to transport the baking to the show venue and how you will display the cakes, cookies and other items. Many shows provide plates to display items on and will not let you take your own prized china, so check rules before leaving. As things will be hectic on show day, take the time to take your own photographs at home before leaving as this will provide a good reminder of what you made for each event. Having replaced the bulbs in your blue retro kitchen lights you will not be short of lighting to make your baking look its best. Once the items have been judged, competitors will be told what time to return to the tent, and it is at that point you discover whether you have been lucky enough to win a prize ribbon or cash prize.
The Contemporary Home offer a great range of blue retro kitchen lights which really lift a kitchen's look!