Here are some candy boxes of rectangular design and are make of cupboard. All of them come unfold. It is rather easy for you to fold them and insert any content that you wish to put in the box.
Size of the box: L 10.5cm x W 8cm x H 4.6cm
Big Rectangular Candy Boxes in Red Color

The box presented before folding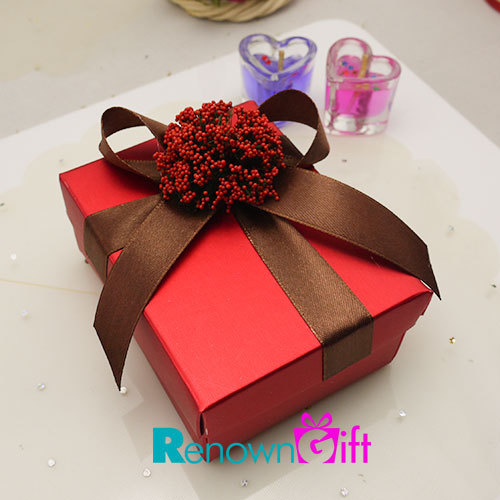 The box display is after folding and is decorate with chocolate color satin ribbon as well as a custom made sticker that stick on the top of the box cover.

Two of the sample eggs are inserted into the box. The box is big enough to cater 2 eggs if you are intended to put eggs in.

You can insert 6 pieces of Ferraro Rocher chocolates into the box if you want to give away an edible gift to your guests.
Big Rectangular Candy Boxes in Purple Color
The box also available in purple color.
Video Tutorial on Folding the Box
If you are not sure about how to fold the box, you may refer to the video tutorial.
Wedding Party Favors to Remember
Wedding favors are the perfect way to show appreciation to your guests while helping them to preserve the wonderful memories of your very special day. Today, more and more couples want to create the wedding party to be uniquely their own. Innovative wedding favors such as seashell favors, crafted candy boxes, bottle opener, and coasters, tin box containers are creative ways to accent their wedding theme.
Favors From the Heart
Customized wedding favors is a great way to express couples' personal style. Exquisite keychains, tin pails and decorated gift boxes are all "heart" crafted to give that special personal touch. Whether you are bring your cultural root into the wedding or expressing your personal style, favors like decorated Chinese chopsticks and manicure sets are unique ways to celebrate your wedding day.
Every finished favor we carry has been thoughtfully hand crafted by us. They are truly one of a kind. You will find each favor has been finished with great attention to detail. Our strengths are in customizing table decorations, gift boxes and favors to fit any wedding theme…marrying by the sea, holiday wedding or wedding for wine lovers or sports lovers. We work hard with brides and grooms to save them money by designing just the right favor to use as an element of table decoration and as a departing gift, all in one. For sure you will also find a unique selection of baby shower favors and corporate gifts at here as well.