Weddings can be a bit cookie-cutter. Your ceremony and reception are supposed to kindle lifelong memories, so you should make sure to make it striking, fun and memorable. But how do you do that when the ideas in so many wedding catalogs look the same?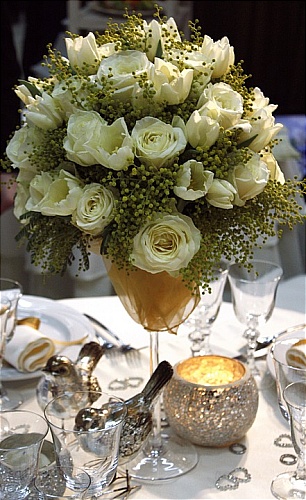 One way is to start with a strong theme – something that will set the pace for all your other choices, either visually or in terms of the attitude. If you want to use a theme as a foundation for your wedding planning, here are three ideas that are classic and yet leave a lot of room for creativity and personalization.
1. Black and white. Do you want your guests to feel sophisticated and chic? A black and white wedding is a visual theme that unifies everything through a strong, modern aesthetic. The theme is just what the name implies: you plan your wedding in part around the color scheme of black and white. Does it sound too simple? Don't be so quick to just. Black and white invitations can be powerful and striking, black and white spaces can be sleek and hip, and your guests will have fun showing off how creatively they can dress without using color. You can play the theme to the hilt by projecting black and white romance movies in the reception area, or leave it as a color scheme alone.
2. Outdoors wedding. Holding your wedding outdoors requires special preparation, but the payoff can be well worth it. Outdoor weddings often seem even more magical than ones held indoor, especially if you can hold the reception either outdoors or on the grounds as well. Choose a month that's likely to have good weather, and have a backup plan in case of rain. If you plan it right, it will end up looking breathtaking no matter what the weather.
3. Going casual. The most memorable wedding of all is probably one where the guests feel the most comfortable. A casual style wedding is often held in a home, backyard or a favorite local hangout. Casual weddings are most fun when they have a theme of their own: a pajama party wedding, for example, or a punk rock wedding.
There are many different themes you can use to get the gears turning. If a black and white wedding isn't for you, what about a different color scheme? If you're not a fan of the outdoors, what about a different unusual venue for the ceremony? Get your imagination going and you'll find the theme that's perfect for you.