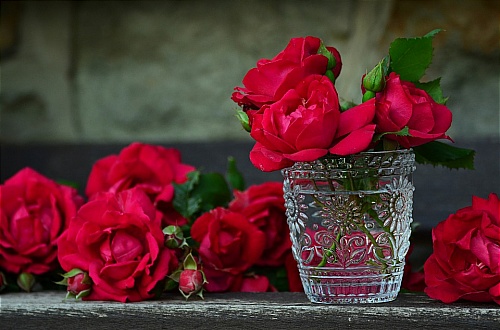 When planning your wedding every minor detail counts. Everything from the cake to the dress, even the table favours count. Your wedding should be personal with everything representing you and your loved one on your special day.
Now your flowers should be your key accessory, as they are one of the key accompaniments to your dress. When choosing your flowers, your theme and colour scheme (if you have chosen one) should come into play and the flowers, like other things, should tie in with the theme and colour scheme perfectly.
Many people choose flowers that look pretty or are a nice colour. However, if you want to give your wedding an extra personal touch, find out the meaning of flowers and include the ones which really symbolise you, your future husband/wife to be and your relationship. The meaning of your flowers can also tie in really well with favours as you can build them around the meaning.
Roses
The rose is one of the most common flowers used in wedding bouquets. Easy to acquire in all different colours and species, the rose is the go-to flower. Red and white roses symbolise unity and strength in some cultures and they can also represent passionate love. If you have a strong relationship and see yourself as passionate then the red/white rose is perfect for your bouquets.
Hibiscus and orchids
Both different species of exotic flowers, the hibiscus and orchid are native to Hawaii and Japan. Rarely grown in the UK, both flowers can be shipped here on request by a number of florists. The hibiscus flower symbolises a gentle heart whilst the orchid symbolises delicate beauty. Teamed together, these flowers will be perfect for a simple intimate wedding and suit you well if you are a more private person.
Lily
Although some cultures depict the lily as the flower of death, it is most closely associated with brides to be and new mothers. They are a symbol of union and the coming together of partnerships, so having them as an accompanying piece will be perfect. Lilies will suit a bouquet that is on a larger scale as they have have chance to frame the bouquet.
Picking your bouquet is a personal choice. The way you want the bouquet to look is your own choice and is one of the biggest selections to make at your wedding. Make sure you have ordered your flowers at least 12 weeks before your wedding. This should give the florist time to order your request and change anything if necessary.
Lianne Brown spent long hours researching her wedding bouquet before settling on silkblooms.co.uk as the provider.