Choosing an ideal location for the pre-wedding photoshoot is really a tough decision for many couple. Also it gets even harder if you are engaged and getting married in a famous tourist hot spot as you have so many places of interest to consider. However, not to worry! Here you can get a compilation list of the very best locations in the town so you need not keep searching anymore.
Needless to say your photo session will not be complete with out a theme to choose before start your photo shooting. Make sure when you take photo on your chosen venue, you didn't miss any famous landmark before getting married.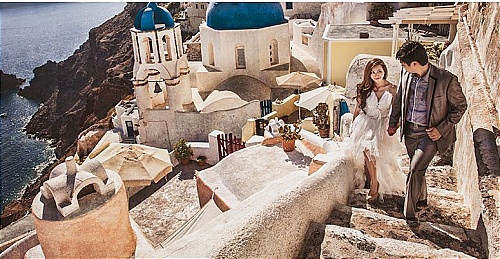 Photo credited to Edwin Tan
Those will be a lot of wonderful locations you should think about for your pre-wedding photoshoot. Be sure you head to each location so that you can really discover what kind of photos you want to have to incorporate in your wedding photo album. When you are wanting more, go on and visit other popular destinations and take full advantage of your stay static in that marvelous location.
Tips for Pre-planning Before Your Actual Shooting Date
First of all, prior for you to plan your pre-wedding photoshoot, you should decide on the places that you want your photo to be shot. You should arrange even earlier if you plan to take your photo overseas. there are few things that you need to get in place first:
1. Jot down your budget so that you won't overspend on the photography when sign up for a photo shooting package.
2. Find the reliable photographer with decent reputation.
3. Discuss with photographer of the ideas that you have and the scene that you wish to shoot. There are many themes and styles that you can choose which including: urban style, old school, picnic style, Vintage, back to school.
4. Venue for photoshoot. After you decide on the ideas and concepts, now you can choose the place for your shooting.
5. For good scenery, you should take into consideration of the different effect for night and day time, as well as the option of adjacent locations that you can reach.
6. For distance consideration, you need to plan for your transportation and accommodation.
List of Photoshoot Locations
Colmar Tropicale Bukit Tinggi (Berjaya Hills)
Website: www.colmartropicale.com.my
Cost: from RM400 for wedding photography
Features: French village, Japanese Garden/ Tea House, botanical garden, hills, slightly cool
Cameron Highlands
Website: cameronhighlands.com
Features: Cool temperature 20s°C, English country home style, tea plantation, lattice windows, smoke house, climbing plants
Dusun Garden Fairies, Ulu Langat
Website: gardenfairies.com.my
Open Hour: 9am-1pm
Cost: RM300
Features: scenic location, lots of green, garden, tree house
Flamingo Hotel by the Lake, Ampang
Website: flamingo.com.my
Features: Lake view
Fraser's Hill
Cost: RM100 for pre-wedding photography crew
Features: trees, botanical gardens, water falls, forest
Genting Highlands
Features: theme park, cool weather, temple
Kellie's Castle, Ipoh
Cost: Entrance fee: RM4 per adult
Open Hour: 9am-6pm
Features: unfinished mansion of Scottish, Moorish and Indian architecture
KLCC
Features: Need to get an authorization letter to shoot at KLCC Park, Twin towers, city area
Lake Gardens, Taman Tasik Perdana in KL
Website: klbotanicalgarden.gov.my
Features: trees, lake, flowers
Langkawi
Features: beaches, resort, cable car
Lima Blas Restaurant, Jalan Mesui KL
Cost: RM500
Features: Vintage design, antiques decor, heritage building
Melaka
Features: A Famosa (Portuguese) Fort, Jonker Street flea market, peranakan houses
Pangkor, Perak
Features: best beaches in West Malaysian shore, dutch fort, fishing village, beach resorts
Poco Homemade Cafe, Bangsar
Website: facebook.com/poco.homemade
Features: small cozy cafe, RM5x for photoshoot, parking hassle, cute rustic decor
Port Dickson, Negeri Sembilan
Features: beaches, resort
Pulai Springs Resort, Johor
Website: pulaisprings.com
Features: nice garden
Putrajaya
Features: parks, flowers, lake, can be hot, nice bridges, Putra Mosque, government complexes
Pulau Redang
Features: beaches, resort
Sekeping Seapark, PJ
Website: http://sekeping.com/seapark
Features: Rustic feel, open air concept
Sekeping Tenggiri, Bangsar
Website: http://sekeping.com/tenggiri
Cost: RM200 for shooting + Room charge at about RM250 (overnight stay)
Features: choose the right room for nicer shoots
Sekinchan
Website: http://www.sekinchan.org
Feature: 2 hours drive from KL after Klang, covered with paddy fields, beach, fishing village, hay stacks
UPM, Serdang
Cost: RM50-150 for photoshoot
Features: big field, trees, university building
Penang
Batu Ferringhi
Features: Beaches, resort
Botanical Gardens
Website: http://botanicalgardens.penang.gov.my
Features: garden, flowers, trees, lily pond
Cheong Fatt Tze Mansion (Hotel), Leith Street
Website: http://cheongfatttzemansion.com
Cost: if not staying at the hotel fee is RM250 per hour
Features: blue outer wall, built end of 19th century, ancient Chinese architecture, granite paved courtyards, vernacular timber lovre windows, porcelain work
Country Side Stables, Balik Pulau
Cost: RM250 per hour
Features: horses, stables, carriage
Fort Cornwallis
Features: Brick walls, cannon, chapel, esplanade, sea
Georgetown city
Features: beautiful heritage building from British era turned into banks, commercial / financial building
Lone Pine Hotel, Batu Ferringhi
Features: white colonial hotel building, beach, greens
Peranakan Mansion, Church Street
Website: http://pinangperanakanmansion.com.my
Cost: RM50 per hour
Features: typical home of a rich Baba in the 19th century, antiques, Chinese carved-wood panels and English floor tiles and Scottish ironworks
Suffolk House Penang
Website: facebook.com/suffolkhouse
Features: Anglo Indian garden house, UNESCO heritage, English-themed
Tanjong City Marina, Pengkalan Weld
Features: waterfront, ferry terminal, pier, sea view, boats, yachts, parked there
Tropical Spice Garden, Teluk Bahang
Website: http://tropicalspicegarden.com
Cost: RM50
Features: over 500 species of tropical flora, man-made canals, pond
Outside of Malaysia
Mauritius
Features: beautiful island, ocean and resort
Paris, France
Features: romantic city, Eiffel Tower, the Louvre…
Santorini, Greece
Features: White Cycladic houses with blue painted windows, a town perched on a cliff, cave houses, amazing beaches
Taiwan
Features: Tashee Blooming Oasis, Tomita Farm, Green Light Forest, Sun Moon Lake
Japan
Features:
Cherry Blossoms (Sakura) – blooms around early April in Tokyo, Kyoto, Osaka. Popular spots: Sumida Park, Shinjuku Gyoen, Ueno Park in Tokyo
Mount Fuji View – Kawaguchiko Lake (Fuji Five Lakes), better visibility during colder winter months
Singapore
Marina Bay, Maxwell Rd
Website:http://marina-bay.sg
Features: signature skyline, lit building at night, garden city, waterfront promenade
Henderson Waves
Features: 274 metre-long pedestrian bridge that spans Henderson Road to connect Mount Faber Park to Telok Blangah Hill Park. highest pedestrian bridge in Singapore, curved ribs structure
Hort Park, Hyderabad Road
Features: lush greenery, theme gardens, beautiful landscapes, flowers
Sentosa
Features: beaches, Universal Studios
Source from: WedResearch

Photo credited to Edwin Tan

Photo credited to Edwin Tan

Photo credited to Edwin Tan
Where to Find Reputable Pre-Wedding Photoshoot Service Provider?
If you are at the moment searching for pre-wedding photography service and if you need something that differs from what bridal shop offers, then you will want to seriously consider in the pre-wedding photoshoot service that provided by Edwin Tan. They have been experienced in providing outdoor pre-wedding photography and they have the ability to custom design your pre-wedding session. You can take a look on their blog to check out all the fabulous wedding photos that they been shot for the wedding couples. Should you be bored of indoor studio photography and fake scene design, then you may want to contact them and discuss with them on the wedding photo packages & prices that they provided.