A Helpful Guide of Blue Wedding Flowers for Every Season!
Searching frantically for the perfect in-season flowers to compliment your blue themed wedding? Here are a few suggestions! The following flowers can be found in varying shades of blue, and they are all listed by when they are in season!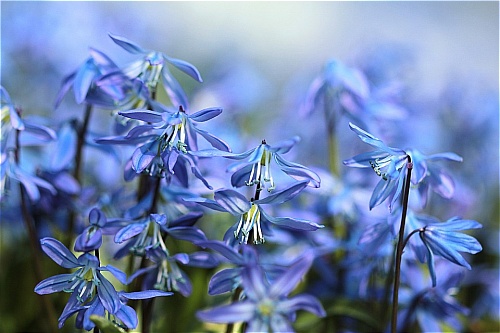 For the months of December through May, Anemones and Forget Me Not flowers are fantastic choices! Forget me not flowers are very small and delicate, so you may want to off set them with larger flowers (such as the Anemone's) or maybe flowers of an additional color. This is the perfect time of year to use white Star of Bethlehem flowers!
Between June and August, Hydrangeas, Freesia and Forget me not Flowers are all lovely choices for your wedding bouquet! Don't forget, unless you want a very delicate bouquet, Forget me Not's are best mixes with another flower or many other flowers.
September through November is a phenomenal time to find blue flowers to wow your wedding with! Iris, Anemones, Asters and Hydrangea are all available at this time of year, and all in varying shades of blue!
Of course, there are certain flowers that will fit your wedding plans that are available all year round. One of these flowers is the beautiful Bachelor's Button. Delphinium is also available all year round. An unusual, but very classy and fun choice would be to mix eucalyptus in your bridal bouquet. The blue silver tone might just match your color scheme as well as being wonderfully fragrant, and plumping up your bouquet with a nice, fullness!