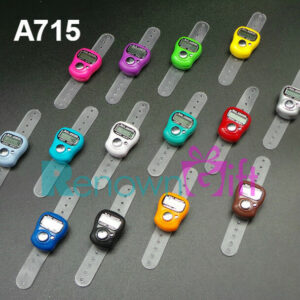 This is a Finger Ring Digital Tasbih normally distribute by customers as a door gift for islamic events such as Kenduri doa selamat, aqiqah, kenduri tahlil, acara cukur jambul, islamic Knowledge Sharing event, Iftar (Berbuka puasa) and lots more.
This tasbih digital is light,small, easy carry and can be use by your guest as a must have item for travel essential and great for outdoor / indoor utility in the Mosque, Office or anywhere.
It is by the way a number clicker type. The Strap is adjustable to fit any size finger or thumb.
It fits easily into your finger and is suitable for use at anytime and at anywhere.
You can also keep it in a beautiful doorgift tin box, paperbox or an organza wrapper as to complete your islamic event door gift.
Get yours now for your memorable events.
Kindly call or whatsapp us to purchase or to know more details on the product.
03-41319731 / 011-62289727 (Nina)