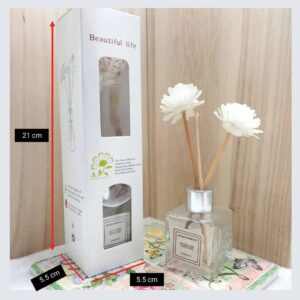 Flowery diffuser add natural beauty and long-lasting gentle fragrance to any room. The flowery diffuser is the latest in home fragrance trends that provides a light, vibrant scent and efficiency similar to reed diffuser.
This flowery diffuser set comprises a richly fragranced oil and fibre stems which slowly release the perfume into the air. This scent can be stayed for more than 7 weeks
Available 6 scents : Rose, Lavender, Jasmine, Ocean, Lily, Lemon
Get yours now for your memorable events.
Kindly call or whatsapp us to purchase or to know more details on the product.
03-41319731 / 011-62289727 (Nina)