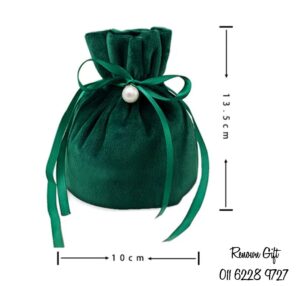 Material of this pouch is velvet and it comes with pearl.  Suitable for your events such as Wedding, solemnization, Baby Shower, Engagement ceremony, Birthday Party, Farewell Party.
You can fill this cute drawstring bag with many things such as chocolates, bahulu or Sejadah Muka.
This pouch can be kept by your guests for treasure where it can be use to fill up something treasureable.
This is Do-It-Yourself product. It mean you need to fold it by yourself. No worry, it only takes less than a minute per box.
Get yours now for your memorable events.
Kindly call or whatsapp us to purchase or to know more details on the product.
03-41319731 / 011-62289727 (Nina)