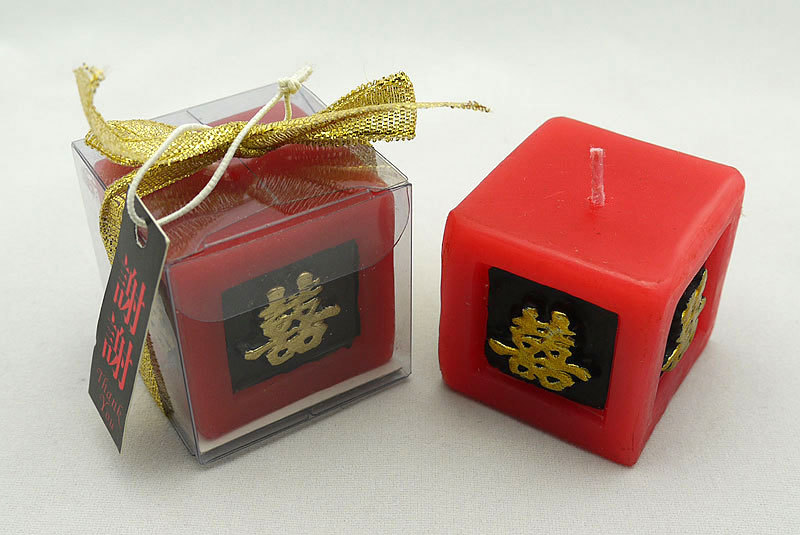 Code: CWF01
Weight: 45g
Size:Width 3.5cm X Length 3.5cm X Height 3.5cm
Box Size: Width 4cm X Length 4cm X Height 4cm
Minimum Order : 100 pieces
Here's a classic oriental wedding favors your guests will love —
an exquisitely designed block candle embellished with happiness.
The sleek candle is designed in gorgeous red and black and
is engraved with the Asian-inspired "double happiness" symbol.
Complement your Asian-themed wedding or
wedding reception with this unique and exceptional candle.
Every kind of candle that you can think of. That is why we try to bring to you. And we want to make sure that all the candles that are on sales over here are clean, healthy, and will bring you satisfaction.
All our candles are made from natural wax. This means that we do not make use of paraffin wax which is a by-product of petroleum refining. You will not find any kind of chemical in our candles.
Cotton may be the crop that is high on pesticides but we ensure that the cotton that we use to make wicks is 100% clean. We also make sure that there are no kinds of metal in our wicks.
Since we use natural wax, you can be sure that our scented candles will burn cleanly. You will not have to deal with black fumes or black soot being left behind. Natural wax candles' soot (which is white in color) is very easy to clean. You just need to wipe it with a damp rag and it vanishes from your table.
You will be saving much with our scented candles. They will last longer than your ordinary candles. So that means more burn time and a longer time before you get a new one.