Chopsticks represent anything on world are come in pair, losing one part and the other part will not be able to survive. Chopsticks are make of wood, and in chinese word, two wood added up together is become so-called forest (双木即成林), which mean the couple will accompany each other till death do they part.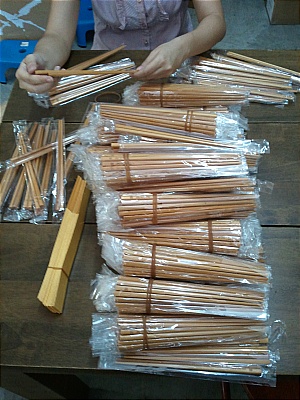 quality checking for customer order
With the rise of folk customs, people are having better understanding where chopsticks is no longer confined to daily necessities. In traditional Chinese culture, chopsticks has always play an important role in the Chinese community.
There is abundant meaning of chopsticks:
Giving your love one a pair of chopsticks is a good way in expressed your determination for getting together with him/her.
Besides, chopsticks also have the meaning of pairing together, born to be a pair, each one is co-dependent on the other one, love and appreciate each other, rely on each other!
Giving chopsticks to your friends and family indicate that you care about each other's intimate life.
Giving chopsticks to your business partners represent of the collaborative relationship of interdependence, and last for long.
Chopsticks in a wedding means the couple are going to grow old and never separated. For some states in China, when people thrown chopsticks out of the window and dropped to the ground, everyone will yell: "chopsticks chopsticks, faster getting kids". (筷子筷子,快生贵子)
It is very suitable to give away to your invited guests as door gift in your wedding dinner. If you can personalized the chopsticks with the couple names engraved on the chopsticks, it is going to be even more elegant and memorable for the guests. It is a very good mascot to present to the newlyweds or give away to guests by the bride and groom.
Strength Gaining
Using chopsticks imply of co-operation these two small rods to pick the foods and put into our mouths. The power of a single chopstick is weak and anyone can break it into half easily. However, when a bunch of chopsticks are getting together, they become very strong. This is a good reflection for us to learn that a single person's power is very limited, so we need to cooperate with each other to become strong. Thus, many people will choose to have chopsticks as gift and give to their business partners. But there are taboo in Chinese community where you shouldn't give a pair silver chopsticks, because this represent you are having suspicion and mistrust on your business partners.