Just wrote a post about the rose soap this morning, and afternoon already got customer make a bulk order of 450 boxes of this item.
We are so impressed of the rose soap once we pack them up as they appear to be very beautiful and eye catching with a lot of rose soaps are put on together. To show you how lovely the rose soaps are, I just took a few photos to share with you and hope you will love them like I do.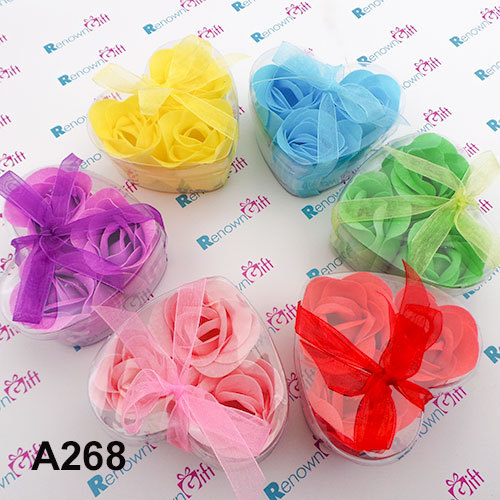 If you wish to order, you may visit the link here for more information:
Order Rose Soap
Bath and soap wedding favors can be as pretty as they are useful to your guests. These bubbly little works of art will add color and life to all of your guest tables. They also make fantastic party favors.
We are dedicated to producing the finest handmade natural soap that is earth-friendly, sustainable, free of artificial color, animal fat, and lard. We make vegetarian soap and vegan soap. All of our homemade affordable soaps are clearly made and dedicately decorated. Our prices are considerably lower than our gourmet soap competitors. Our soap is never tested on animals. Like most soapmakers, we do not spend more money on the packaging than the soap. We package our affordable handmade soaps with recycled and re-used PVC.
How Soap Was Discovered?
Soap, which is actually a salt, is a combination of lye, fat or oil, and liquid (usually water). Legend has it that soap was discovered near Sappo Hill in Rome around 1000 B.C. Apparently, animals had been cooked on an open fire on top of the hill. The rain came and carried the ash and animal fat from the fire pits down to a river below. Women were washing clothes in the river at this time and noticed that the run-off from the hill created bubbles, which cleaned the clothes better. Lye comes from ash. Today, lye typically comes in the form of a white powder and is used as a drain opener. However, not too long ago soap was made at home with ashes from the fireplace, animal fat, and water.
Commercial Soaps That Refuse to Disclose Their Ingredients:
* Ivory
* Jergen's
Did You Know?
The word "lavender" comes from the Latin word lavare, which means "to wash." No wonder the Spanish word for "laundry" is lavanderia!
Lavender was one of the first things used by ancient humans as a cleaning agent.
Commercial Soaps Made with Animal By-Products:
* Irish Spring
* Dove
* Camay
* Dial
* Lever 2000