Forget trying to outdo others or striving to make it different to everybody else's – what make a wedding truly special is when it is deeply personal to those closely involved. Weddings are, after all, incredibly personal events. Just remember that this is your wedding so plan something that is special to you and your partner, not your guests. To help kickstart some ideas, here are our top tips to personalising your wedding: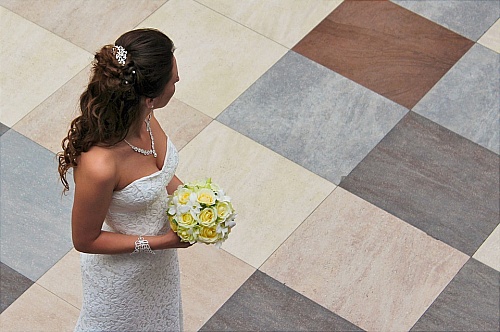 The wedding dress
This is usually the first thing a bride thinks of when she starts to plan her wedding as many have thought about themselves in their wedding dresses since they were little girls. You want to feel special in your dress but that doesn't necessarily mean throwing money at it. Wearing a dress that has some sort of personal touch can make the entire day feel truly special. With that in mind, consider wearing your mother's or even grandmother's dress – vintage styles are very in this season, especially those with a drop waist. However, in the likely event that those dresses are damaged or discoloured with age or simply don't fit, you could use the fabric to create your own dress, a bolero or a cape. If your mother's dress contains lace you could use that as detail on your dress. Alternatively, think creatively and weave parts of the fabric around floral arrangements or utilise undamaged fabric to make the flower girl dress.
The colour scheme
The colour scheme is what brings all the different elements of the wedding together so it's important that you're happy with it and the most obvious way to make it personal is to choose your favourite colour or that of your husband-to-be. The time of year might also play a part in the decision – a spring or summer wedding might involve pastels or brights whereas deep, rich colours might better suit an autumn or winter wedding. Your venue can also have a deciding factor. You don't want your wedding party to match the decor but if there is a central element, such as a skylight with stained glass or beds of flowers in a particular colour, it's nice to pick out those colours in the stationary, floral arrangements, and as accent colours in the bridesmaids dresses and groomsmen's ties. It's all in the detail!
The cake
You can be really creative and truly personal with the wedding cake. Whether you opt for the traditional tiered cake or go for something totally different is entirely up to you but whatever you do you can make it personal. These days wedding cakes come in all shapes and sizes so don't think there is a set rule. Arrange cupcakes on a pretty cake stand, choose a fun and quirky cake with a personal theme, or forget cake altogether and plump for a 'cheese cake' created from different cheeses. If you decide to stick to tradition and order a three-tiered cake there are still many ways to personalise it. Choose your favourite flavours, ask a talented close family member or friend to make it for you, or order custom-made toppers of your husband-to-be and yourself.
Emily Buckley has been to her fair share of weddings and now writes about them, specialising in reviewing wedding venues such as the Burswood Entertainment Complex in Perth, Western Australia.