Wedding dresses are not created equal. Some styles are more appropriate for some body types than others. If you are about to get married and is currently shopping for the dress you will be wearing on your special day, consider your body type first before you make your choice. The surefire way to look your best on your wedding is by picking a dress style that would flatter your figure and effectively conceal your flaws. Keep in mind that cut and style matter more than the label or the price tag.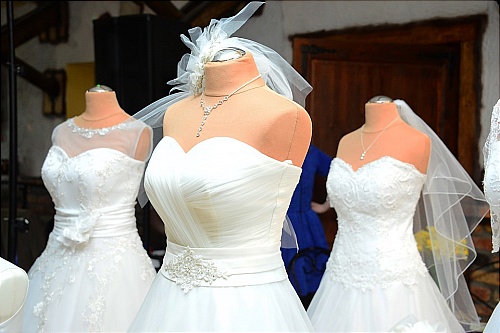 Dress That Match Your Body Figure
If your waist is well-defined and your shoulders and hips are the same width, you have an hourglass figure. If you have this body type, consider yourself lucky—your figure is the closest thing to a perfect body because it is the most proportioned among all other figures. Being well-proportioned has one main perk: you can wear almost any style. Your choice of style all depends on what you want to emphasize. For instance, if you like to show off your feminine curves, you can go for a sheath or mermaid silhouette. If you want to direct attention to your impressive waist, you can pick a gown with a corset or any fitted bodice. If you love your shoulders, flaunt them in a wedding dress with a portrait or V neckline.
Are you smaller on top but heavier on the bottom?
For pear-shaped women like you, the dress you pick should not draw attention to the bottom half of your body. The best choice for you is an A-line princess cut wedding gown because it shows off your small waist while hiding your wide hips and thighs. To make your upper body more proportional to your bottom half, you may also opt for an off-shoulder neckline. If you want embellishments or added details to your gown, place them on the top half and keep the bottom plain.
Do you have slim arms and legs and is a bit more rounded in the torso and abdomen? This means you are apple-shaped. Like pear-shaped women, you have to stick to wedding gown options with A-line skirts because it accentuates the waist and widens at the bottom. The bodice of your wedding dress must also have added texture such as lace details or rouching to draw attention to your bust area. When it comes to choosing necklines, choose a deep V neck because it has a slenderizing effect.
If you are one of those women who do not have curves to show off, what you have is a boyish figure. Just because you do not have curves like the pear-shaped and apple-shaped does not mean you cannot look feminine on your special day. You can create the illusion of curves by selecting a bias cut wedding dress with a sheath silhouette. Another option for you is the ball gown style—the full floor-length dress will address the problem of your straight hips while accentuating your slender waist. Feel free to also add details to the top of the dress to make the bust area fuller.
The article was written by Fiona who owns Frox of Falkirk a shop in central Scotland selling Mother Of the Groom Outfits and Mother of The Bride Outfits from many international designers. The shop has an extensive range of outfits to choose from.