Finding a present for your girlfriend is never easy, but speaking as a girl, I like to think that I have some idea of what girls want. As a guy, you have several options to get her, you can go with something classic (and boring) like chocolate and roses, or you can get her something unique and interesting like an initialized monogram necklace.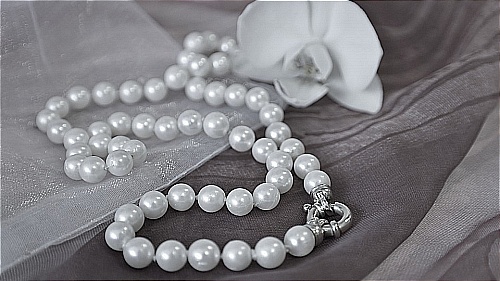 Purchasing initialized jewellery for your girlfriend can really be the perfect gift in so many ways. For starters, it is personalized for her; this will tell her that you put enough thought into it to buy her a customized gift.  Second, most if not all girls love jewellery, which makes it hard to go wrong on her special day.
Will She Like An Initialized Necklace?
Before you purchase any sort of jewellery for your girlfriend (or any sort of gift for that matter) you should make sure she will like it. You don't have to go and ask her if she would wear it; or drag her by the jewellery store to see if she ooh's and ahh's, (this will probably give away your intentions), but you should pay attention to her. Does she wear similar jewellery? If so; then she will probably like a monogram necklace.
You should also pay attention to what sort of outfits she wears. Some jewellery goes well with certain clothes while not matching others very well. A good thing to keep in mind is that an initialized monogram necklace will go well with a lot of different outfits while a full name monogram is more likely to be dressy or to be worn with wide necklines and etc.
How to Choose the Necklace
Choosing the right necklace for your girlfriend is as important as getting her the gift in the first place. In my experience, while women still appreciate gifts that they don't like, they would rather you have just saved the cash or taken them out to a restaurant. Purchasing something she thinks is ugly means that it will probably be worn once or twice and then never seen again.
First, try paying attention to her other necklaces. Note the colour, (is it silver or gold?) and determine if she wears small, chunky or mid-sized jewellery.  Usually if I'm wearing a necklace, it is because it suits my face and my skin tone. Most likely, your girlfriend is wearing hers for similar reasons, which means you should try to choose something that is the same colour and roughly shaped like her favourite necklace.
Presenting Your Gift
Finally, you should remember that the most important part of giving a gift to your girlfriend is presentation. While you don't have to take her out to a fancy restaurant and blow hundreds on her, she will probably appreciate something romantic. Try a walk in the park, surprising her with dinner or even something as simple as asking her to come over to the mirror because you want to see how beautiful she looks with this 'thing' you bought her. Girls love small gestures as much as they love big ones so you can feel free to spend your money on the gift (unless she's specified that she wants to go out).  Most of the girls that I know will appreciate the time and consideration you put into the purchase as much as the gift itself. With an initial monogram necklace, you are getting her a beautiful piece of jewellery that shows your consideration and appreciation.
If you want to order an initial monogram necklace, you will have to do so online. If you're worried about breaking the bank, don't, many monogram necklaces are priced affordably!