You can use them for groceries, for shopping, for taking out the trash. Chances are there's a growing pile of them somewhere in your kitchen. With so many every day uses, it's easy to see how people can get carried away with plastic bags.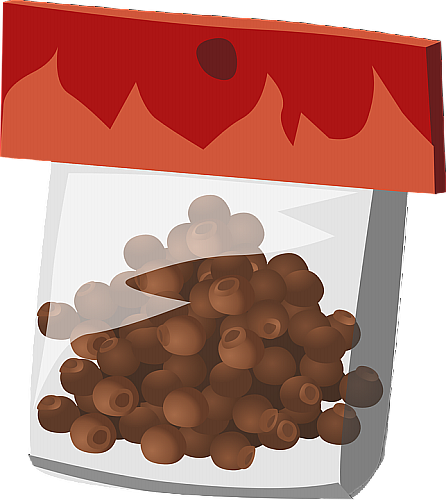 The plastic bags we use every day are made from granules of linear polyethylene resin that will be melted. They combine the linear polyethylene with another low density one in this mixer. The granules are perfectly blended into a homogeneous material. Granules melt in the extruder which heats them to a temperature varying 356 and 465 degrees. This produces a film of polyethylene in the form of a tube. It is several hundred feet long, has a minimum thickness of two ten thousandths of an inch and a circumference of 20 inches.
The plastic tube gradually cools down. Rollers then flatten out the plastic tube. The polyethylene film is now easy to work. And now they cut the tube on two sides to obtain different rolls. This knife then cuts the film to the required width. The excess strip is salvaged into a tube.
Several hundred feet of film are produced and rolled up. This particular roll contains the required quantity of film. When the roll is full the film is cut. This roll moves forward and can be transported to another department. An empty roll begins to fill up automatically. A full roll weighs 348 pounds and can produce 35,000 bags.
Printing on the bags
This alcohol based ink circulates continuously to retain its viscosity. Impressions are made by inking rollers. Here another color is being applied on the bags. once printing is over the plastic film is rolled up again. The roll is now full and the cutting of plastic bags can get started. This machine makes 150 bags per minute. A sealer bonds the edges of the bag together with heat. The wheel picks up the bag and then puts them on two spindles that can hold 250 each.
The zipper is made in advance and is unrolled progressively. The zipper strip is cut and heat bonded to the bag at 356 degrees. In another department of the plant, they make plastic bags with handles. Printed bags circulate on these rollers. The machine that welds the sides gives the bags the desired shape. Then another machine with a punch cuts the handle holes. Bags are heat sealed and cut at 302 degrees. Here they fabricate another product, packaging bags. One end of the bag is heat sealed. This machine makes holes that let air out of the bag as they are being filled, that allow them to be generously filled with items. At this stage a stamper cuts the handle holes. Bags are cut to the required size, automatically sealing the other side of it.
If you are interested in personalised plastic bags, then please visit us at www.amspac.co.uk or by emailing us.