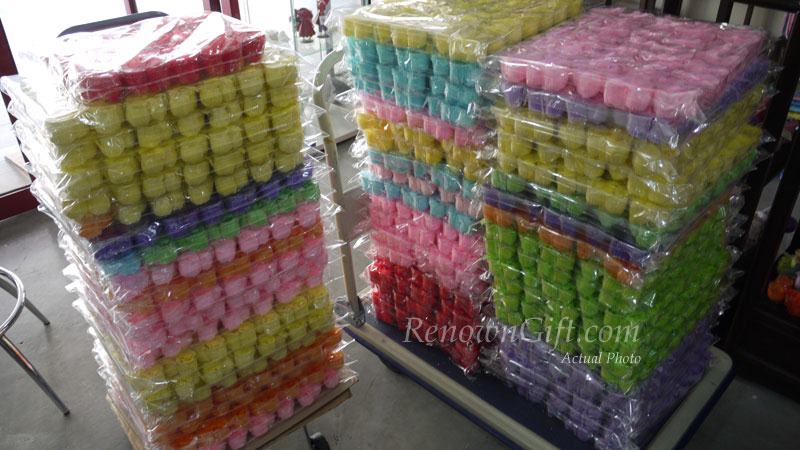 Multiple colours of these scented 3 rose soaps just ready and pick up by customer. Look so lovely…..
Raffia and Dried Flowers & Herbs as Soap Packaging
Using raffia and dried flowers and herbs as soap packaging is a beautiful and affordable way to present your soaps. Raffia, long strands of dried grass, is versatile, cheap, and easy to work with. Of course, it is completely natural, compostable, biodegradable, etc. You can buy raffia at a craft store for a bundle for very cheap price or you can simply make it yourself.
To make raffia yourself, just allow some grass or grassy weeds to grow about 3 feet tall. Once they are ready, grab a fistful of the grass just above the ground and cut it with scissors, knife, or gardening sheers/pruners. Bind the bundle of grass together by tying it securely with string, twine, or a thick rubber band. Don't tie it so tight that the grass will not dry straight–it just needs to be tight enough so when you hang it upside-down to dry, pieces of grass don't fall out of the bundle. Hang your grass bundle upside-down as mentioned. Drying should take a few days. You can also dry the grass on a low temperature on a cookie sheet in the oven if you're in a hurry. Voila! You just saved yourself some money and it only took about 3 minutes.
There are a number of ways to vary these designs. For example, you can use 10 strands of raffia instead of 1 or 2 to give a bolder look. You can tie a little label card to where the knot is connected. You can use florist wire (green wire) and secure a dried flower head to the raffia knot. If you have some really wide strands of raffia, you can make a nice fanned bow. Heck, give your tropical soaps a mini grass skirt!
There are also some very crafty, clever, and cute raffia flowers people make.
Other than using dried flowers and herbs tied onto your raffia bow, you can also tie fresh wild flowers with stems around a bar of soap and allow it to dry right there on the soap. This allows for some additional creativity that using pre-dried flowers/herbs does not. You can also use raffia to tie together a mini bundle of lavender or other small budded herb/flower and stick this bundle under your raffia tie. Also, don't forget about using leaves. Punch a hole in a fresh leaf from a lemon tree, for example, dry the leaf, then tie it to your raffia soap packaging. If you have bigger leaves like an umbrella plant, wrap the entire soap in the leaf when it's fresh, tie it up with raffia, then allow it to dry. It doesn't get any more natural than that! Not to mention easy, affordable, and eco-friendly.
Raffia and dried flowers and herbs are by far my favorite soap packaging materials. There are infinite possibilities–all of which are elegant and simple…just like our handmade bars of soap, right?
You can use dried flowers and herbs in homemade soap. They will eventually fade and/or turn brown (this usually only takes a few days or weeks to happen). Some soap makers crumble or chop up dried flower material and sprinkle it on top of the soap (rather than adding it to the body of the soap bar), which seems to have the best results. Regardless, dry the flowers or herbs before using them in your soap so they will already be moisture-less. This will help them retain more of their natural scent and color.