Take a look around, and you are sure to see how stickers can brighten up our world! Whether it's a bottle or a tin box you made yourself, the favors you're handing out at your son's first birthday party, or a bottle of the new drink you proudly brewed yourself, you can add some whimsy and personalization to all of these things easily through a high-quality, skillfully designed sticker. Here is one of the best spots on the web for personalized stickers, customized labels, wedding labels, personalized wine labels, and return address labels. We set ourselves apart with our focus on high quality customer service and unique, original designs that you will not find anyplace else.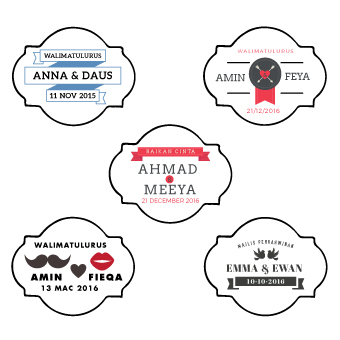 We're proud to offer you a high-quality selection of stickers and labels that can be personalized for just about any occasion. Whether it's the careful planning of a wedding or a new jar of jam that you want to give to a neighbor, we are sure to have something perfect to suit your needs.
How do you make your own stickers by having the design drawing on your PC and then print them out once they are done?
Well, with teh advancement of technology, the task is rather simple and easy now. You simply use a drawing software (for eg: MS Paint, Photoshop, Gimp) to draw the design and save them on you PC when finish. Finally, use a printer to print the drawing out.
While the other option would be with the use of public domain images or creative commons images that have the design that you want, download them to your PC and do further touch up on them if you want. And then have them print out once complete.
What Sets Our Personalized Stickers Apart
Our personalized stickers come in a wide variety of shapes, sizes, and colors. We print on everything from glossy paperstock to matte finished stock. Our labels are great for water bottles, candles, and wedding favors. Furthermore, we also design, typeset, and print everything we sell, which means we have total control over the process of delivering you the best quality items. If something goes wrong while ordering your personalized stickers, we can fix it quickly and hassle free. In fact, there's often a good chance that the person you speak with to discuss your customer service issue could be the actual designer and typesetter for the stickers that you ordered!
We encourage you to give us a try because we are confident you will not be disappointed with our high-quality service, fast turnaround time, and amazing catalog of personalized sticker designs that are not found elsewhere on the web or in any stores.