Wedding gift tags can help you to give your own unique spin on the gifts you're going to give. There are so many different options you can choose, that personalizing a gift is very simple today. You also get to use your creativity to make the perfect gift for your loved ones. The couple will surely be appreciative of the time and effort you have taken to make their gifts look so much more special.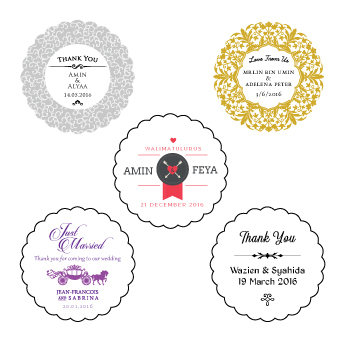 Further Customize With Wedding Gift Tags
There are so many things you can do to personalize your gifts. You can use the photographs of the couple on the gift tags to put a smile on their faces. If you are planning to send the gifts after the wedding date, then put on a picture of both of them on their wedding day. This will surely remind them of that great day. You can have the photograph imprinted on to your tags or you can cut them yourself and stick them on to the gift tags. With a little bit of creativity, you can do wonders.
Floral gift tags are perfect as your wedding favor gift tags. Flowers are symbols for beauty and perfection and are obviously ideal for weddings. No matter what one's personal tastes are, nobody can say no to beautiful flowers in weddings. You can get these floral gift tags in a wide variety of vibrant colors to match the theme of your wedding. You can tell your guests how much you appreciate them coming by putting out a dazzling display of beautiful floral gift tags on the wedding favors.
More Flower Choices
You can also opt for lily gift tags which are extremely beautiful to look at. The delicate pink and white color scheme can melt hearts with their sheer beauty. You can also write a personal message on the cards or have them embossed on the cards to express your gratitude to the guests. You can also go for more stylized floral designs to capture everyone's attention. You can either go for subtle elegance or blinding beauty. The decision is yours.
You can go online to see the various options you have for your gift tag needs. Words really aren't enough to describe the amount and beauty of options that exist out there. From a myriad of colors and designs to custom shapes and materials, you can find them all. So why waste time? A few clicks and you will be on your way to find those perfect wedding gift tags.